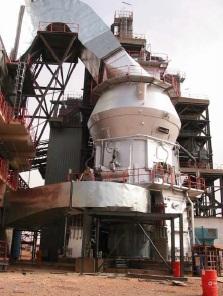 Thai cement manufacturer Siam Cement Public (SCG) has commissioned LOESCHE with the delivery of a new vertical roller mill (VRM) of the type LM 56.3+3 CS for its cement plant in Kaeng Khoi.
The LOESCHE mill will produce medium-fine cement qualities and is designed for grinding clinker, gypsum and limestone. SCG is able to quickly and easily switch between different products and qualities. As a result, the company will in future be able to produce a wide range of different cement types, as well as varying product finenesses, thus making it easier to place them on changing markets. With the classic roller presses and ball mills predominantly used at SCG, this would take a long time.
The flexibility that will be available in future for manufacturing the various different cement types also means greater profitability for SCG: The cement quality can be improved quickly and efficiently, and adapted to the requirements of the market.
A more energy-efficient production of the different cement types is also possible with the new LOESCHE mill. Compared to roller presses or ball mills, the achievable efficiency gains in electrical energy lie between 15% and 40% depending on the cement quality. These are important requirements for SCG in order for them to be able to continue marketing their cements even more successfully in future.
In addition to LOESCHE's long-standing experience with vertical roller mills in cement grinding, a thought-out plant design in combination with an extended scope of supply in the central area of the grinding plant, such as blowers, bag filters, electrics / automation are a guarantee for the highest possible efficiency in cement production.
SCG Cement has placed its trust in advanced LOESCHE technology since the 1980s, and it has since proven its worth in several of the producer's cement plants. LOESCHE is therefore the main supplier for vertical roller mills in Thailand.
A LOESCHE vertical roller mill, as well as an LM 56.3+3 CS, was last delivered as part of the already existing cement plant at Ta Luang in 2014, where it is meanwhile setting new standards in the production of type III Portland cement. The specific energy demand of the grinding plant means there is now only around 40kWh/t compared to grinding plants with ball mills, which usually require 60kWh/t. This leads to significantly lower production costs. In addition, only 200g/t of grinding aid is now required, compared to up to 600g/t in a ball mill. At over 500ksc, the relevant cement quality (18 hours concrete strength) achieved with the vertical roller mill significantly exceeds the TIS (Thai Industrial Standard) of 440ksc.