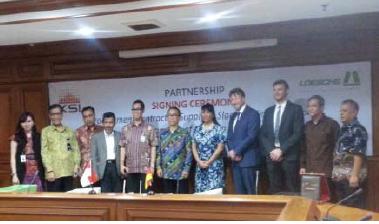 For its emerging Cigading slag grinding plant in Cilegon, Banten, PT Krakatau Semen Indonesia awarded a contract to LOESCHE GmbH, the market leader in slag and cement grinding.
PT Krakatau Semen Indonesia was founded in November 2013 as a state-run company, making it a newcomer in the cement industry. In a joint venture with PT Semen Indonesia, PT Krakatau Semen Indonesia is building its first plant of this type with a planned annual production of 750,000t.
The new customer was convinced of the quality and reliability of LOESCHE technology by the large number of the existing references. LOESCHE's intensive customer support and quality assurance strategies further encouraged the newcomer.
The new Cigading slag grinding plant is a greenfield project. To grind the granulated blast furnace slag to a fineness of 4,500cm²/g, the customer will use a LOESCHE mill with an LDC classifier.
The scope of supply for this contract also includes the raw material transport system, the mill dust extraction system, the reject system and the silo equipment.
Subsidiaries of LOESCHE are also participants in this contract; thus LOESCHE ThermoProzesstechnik is supplying this grinding plant with a hot gas generator type LF-36L (fully inline) for the combustion of industrial diesel oil (IDO). Automation of the plant is supplied by LOESCHE Automatisierungstechnik. A service contract was concluded with LOESCHE Indonesia Pvt, located in Jakarta, that includes personnel services. The LOESCHE team from Jakarta will monitor the local production as well as the assembly and commissioning.
The LOESCHE mill will be put into operation as early as the first quarter of 2017.