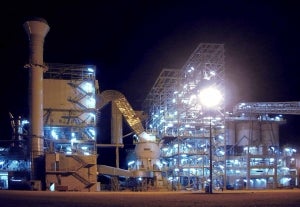 Askale Cimento Sanayii T.A.S. is currently erecting a new 4,000tpd Clinker production line in Gümüshane, near the Black Sea about 100km south of Trabzon, Turkey. The complete project execution and coordination on site is handled by SINTEK Mining Machinery Industry Construction from Ankara.
For this new plant, Askale Cimento already decided in favour of two Loesche vertical roller mills to grind cement raw material and coal.
On the 18th of September, 2012, Askale Cimento and Loesche signed an additional contract for the supply of one Loesche mill type LM 56.3+3 to grind cement with production rates of up to 230tph and finesses of up to 4,600cm²/g according to Blaine.
The chosen Loesche mill type LM 56.3+3 will be producing at least four different cement types, from a standard OPC cement to various types of composite cements.
Askale Cimento realised that the Loesche vertical roller mill technology is superior over all other available grinding systems.
The advanced Loesche technology, ensuring the production of various excellent product qualities, with high availability and very low energy consumption of the complete grinding plant, were major decision factors for Askale Cimento to trust Loesche also for the cement mill.
Loesche's innovative compact plant design for cement grinding plants was another important reason for Askale Cimento to choose a Loesche vertical roller mill for cement grinding.
The new Loesche compact plant design eliminates the necessity for a large and expensive mill building, leading to massive savings in required plant plot, in cost for structural steelworks and civil works as well as in erection time.
This is, amongst other Loesche innovations in this direction, possible due to Loesche's newly developed LDC classifier. This classifier is equipped with a patented gas flow straightener called "VORTEX Rectifier" which ensures an already homogeneous airstream at the classifier exit. Due to that a horizontal mill exit directly into the mill filter is possible. This leads for example into a reduced pressure drop of the mill system hence into savings in the specific power consumption of the complete grinding system.