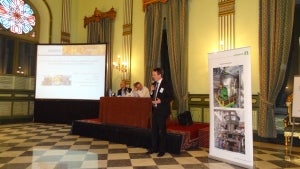 Together with A TEC / GRECO, Loesche invited the interested clients in the region to participate in a seminar on coal grinding in Cairo on 19th March 2013.
The seminar was well accepted and more than 50 participants were registered and welcomed by the teams from Germany, Austria and Egypt.
Available for a lively exchange of ideas on the occasion of this seminar were Mr. Gerhard Salewski, Mr. Bernhard Schröder, Mr. Thomas Fahrland, Mr. Michael Müller from Loesche in Duesseldorf and their representative Mr. Karim Moussa.
The representatives from A TEC / GRECO were Mr. Wilfred Zieri and Mr. Andreas Moser from Austria with Mr. Ibrahim Ismail as their
representative.
As a kick-off, the seminar's program offered some general information about the cement industry in Egypt. With an expected 30% increase in cement demand in Egypt, the amount of 80 mio t/y cement is to be expected until 2018.
The current situation of the natural gas supply was discussed as well as its substitution by solid fuels. This was done to find a possibility to meet Egypt's future cement demands at decent prices.
In their presentations, Mr. Salewski and Mr.Fahrland, both Loesche representatives informed the participants about coal and petcoke
grinding plants which might be interesting in the future to be installed in the existing cement plants.
Mr. Wilfred Zieri, A TEC, spoke about the influence on the pyroprocessing by using solid fuels and Mr. Andreas Moser, GRECO, gave
information about the burner technology and the special requirements for kilns and calciner burners using coal or petcoke.
The participants as a very interested audience took this opportunity to discuss all technical and environmental details together with the teams of Loesche, A TEC and GRECO to make this event a successful one.