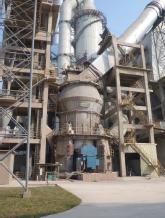 For its cement works in Dong Son Bim Son the customer Long Son Company Ltd has placed an order with LOESCHE, a market leader in cement grinding.
The customer Long Son Company Ltd is one of the largest exporters of cement, cement clinker, coal etc in Vietnam. The consumers for such export activities are customers from countries in Asia and Africa. According to the company's own information, Long Son Company also supplies more than 10,000 million tonnes of raw materials per month to India.
As a new customer, the company was convinced of the quality and reliability of the LOESCHE technology by the large number of the existing references for LOESCHE GmbH in Vietnam and the guarantees given for this project.
The new cement works Dong Son Bim Son is a greenfield project. The contract customer for this project is Sinoma-NCDRI, a long-term LOESCHE partner with worldwide activities in international cement plant construction.
For grinding cement raw material to a fineness of 12% R DIN 0.09mm, the customer will use a type LM 56.4 LOESCHE mill with a performance of 520 t/h as a reliable unit. The gearbox of this mill has a power output of 3,600kW.
The scope of delivery for this order also includes the rotary feeder, water injection, metal detectors and the sealing air fan. All of the equipment is to be delivered in eight to nine months' time and the LOESCHE mill is to be put into operation as early as October 2016.