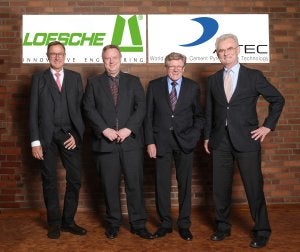 Loesche, the market leader in dry-grinding technology, has entered into a close cooperation agreement with pyroprocess specialist A TEC Holding.
With Loesche's expertise in dry-grinding and thermal process solutions, and A TEC Holding's cement pyroprocess technology proficiencies, together the two companies are well placed to jointly provide even stronger and better support to clients in the cement industry.
Combining technologies and sales organisation has opened up interesting new opportunities, for example combined upgrading projects such as grinding circuits and pyroprocess optimisation.
Loesche and A TEC will be partners for plant improvement and environmental projects, and will be in a position to offer complete process solutions.
The cooperation generates attractive synergies for both companies, particularly in research and development and joint technology developments, which will provide innovative new solutions to solve future issues in the cement production market.
Both Loesche and A TEC are well-known brands with unmatched reputation for quality and customer service.
Loesche supplies vertical roller mills and dry-grinding plants, process solutions and automation processes for coal, cement raw materials, granulated slag, industrial minerals and ores.
A TEC is a world leading expert in pyroprocess engineering, and will be in charge of clinker and cement plant optimisation for this partnership. A TEC also offers consulting services for manufacturing and engineering supervision.