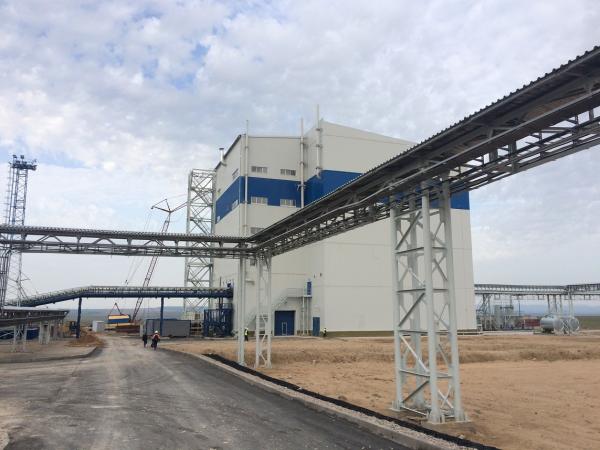 EuroChem, one of the world's top ten producers of mineral fertilizers, has started operation of its crushing and processing plant in Zhanatas, in the South Kazakh region of Zhambyl. LOESCHE technology is at the heart of the plant, helping to develop the large-scale phosphate rock deposit, the most important raw material for the production of phosphate-containing fertilizers. EuroChem selected a LOESCHE mill type LM 24.2, with the proven vertical roller mill technology, for the production of ground phosphate.
As the pioneer in vertical roller mills technology, LOESCHE has been successfully constructing and supplying phosphate mills worldwide since the 1960s. For this project, LOESCHE's contract includes the delivery, planning and installation of the grinding plant, which has a capacity of 600,000t a year. The plant was realized and put into operation on site by LOESCHE GUS in close cooperation with the LOESCHE headquarters, as well as LOESCHE Automation.
The plant has been successfully operating since the first quarter of 2016. During a performance test of 72h, the new grinding plant proved to operate to the client's utmost satisfaction. During this operation, the plant not only reached all contractual guaranteed values, but even significantly exceeded the guaranteed production capacity. Furthermore, a further 15% specific energy consumption was saved compared to the original guaranteed values. EuroChem plans to start with an annual production of 600,000t ground phosphate with the LOESCHE mill being the technological heart of the plant.
Thanks to the successful start and the good cooperation, EuroChem has invited LOESCHE GUS to submit their quotation for two additional mills for a chemical processing plant that is currently being planned. A spare parts and service package is also being offered for the existing plant.
Construction of the complete fertilizer plant is still underway, with an investment of approximately $150m. When construction is concluded in 2018, the plant will boast an annual production of some 300,000t NPK fertilizer (NPK fertilizers are three-component fertilizers providing nitrogen, phosphorus, and potassium), 600,000t potassium sulphate, 660,000t dicalcium phosphate (DCP), 1.2 million tonnes of gypsum, 390,000t calcium chloride, as well as 120,000t magnesium sulphate.
The phosphate products produced supply both the local and international markets, securing the supply of any EuroChem finishing plants and contributing to a further increase in the development of the region.