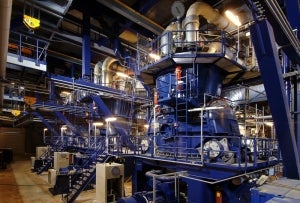 Paul Wurth S.A. decided to install a Loesche vertical roller mill including a Loesche Hot Gas Generator in their steel factory Karabük in Turkey.
Karabük – For their project Karabük Steel Coal Paul Wurth S.A. ordered the basic and detail engineering as well hardware supply of a
Loesche vertical roller mill type LM 23.2 D including classifier and auxiliaries.
The mill is designed for client specifications by using types of coal with different hardgrove indexes. The grinding capacity is 27 t/h to 37 t/h coal with a fineness of 20-30 % R 0.09 mm. The mill drive unit is calculated for a continual load of 440 kW.
Additionally to the vertical roller mill Loesche will deliver one corresponding hot gas generator including the instrumentation for the Karabük Steel Factory. The hot gas generator will be operated by blast furnace gas as well as coke oven gas for the start-up sequence.
The equipment will be installed in the grinding and drying system for the pulverized coal injection plant in the new blast furnace
line of Karabük Steel Factory.
The hardware to be delivered by Loesche is scheduled for July 2013.