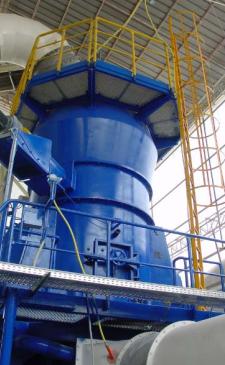 Having purchased the LOESCHE state-of-the art vertical roller mill for the grinding of cement, Cementos San Marcos decided to supply another VRM for the grinding of coal. Up to date, the LOESCHE Mill type LM 35.2+2 is the sole vertical roller mill in this plant for cement grinding.
Cementos San Marcos is one of the latest additions to Colombia's cement production base, located 20km north of Cali. The cement plant allows the company a closer connection to regional building sites, and most of its output is used for infrastructure projects as Colombia builds toll roads and links the capital Bogotá to the north. Sustainable cement production is central to the plant's design, with energy efficiency and the use of alternative fuels.
The cement plant was designed as a two-phase project to initiate a conservative market entry, with the aim to more than double capacity, to meet market needs within a short period of time.
The recent experience with the LOESCHE Clinker Mill gave the client the confidence to go again with LOESCHE on a coal mill for realisation of phase 2 of this project. The challenge of this project was to fit the new and larger mill in the existing plant and reuse the existing coal mill's foundation of a smaller capacity Raymond mill which will be replaced. The classifier and the plant ducting equipment will be part of the contract.