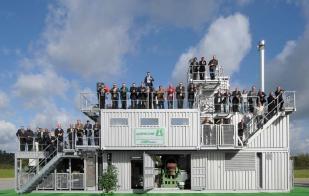 Clariant Germany approached LOESCHE Düsseldorf with an exceptional request; it needed a vertical roller mill for grinding bentonite for its facility in Balikesir, Turkey. All components of the grinding system must be mobile since a future relocation is planned for the facility.
LOESCHE's solution is to integrate the entire grinding plant in 7 ISO containers. All grinding plant components from the open loop control to the feed bin, the crusher, the mill with classifier, the hot gas generator, the filter, the fan and the pneumatic product transport are placed in containers. The container grinding plant is designed as a turnkey solution. All electrical connections between the containers are pluggable. No foundations are required for its erection on solid ground.
The smallest LOESCHE roller mill, type LM 9.2 D and designed for grinding industrial minerals, has a capacity of 1.8t/h. The Balikesir facility grinds bentonite, which is ground to a fineness of 30% R 0.063. With a power transmission capacity of 45kW, the facility meets all the customer's requirements.
"This was the first order of its kind for LOESCHE," remarked Project Manager Matthias Authenrieth, "but we were able to successfully implement the customer's requirements. Our mobile, containergrinding plant is expected to be commissioned in May 2016."
With over 18,000 employees worldwide, Clariant is a global leader in specialty chemicals. Its headquarters are in Muttenz near Basel in Switzerland.
In 2011, the Clariant Group acquired the former Süd-Chemie which had been successfully operating the Hällekis facility in Sweden with a type LM 15.2 Loesche Mill for over ten years. Clariant Germany established contact with the end customer CLARIANT (Türkiye), Gebze, Kocaeli, and laid out the technical parameters together with LOESCHE GmbH in Düsseldorf.