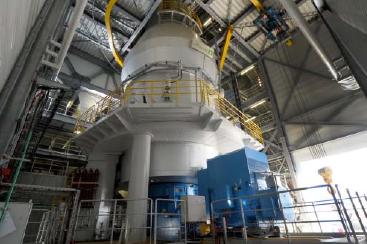 For the Dunkerque project, Ecocem France SAS, with their head office in Aix en Provence, France, has opted for another LOESCHE vertical roller mill.
For the new Dunkerque cement plant, Ecocem France SAS has placed another order for a LOESCHE mill type LM 46.2+2 CS.
The LOESCHE technology is well known to Ecocem, as it operates a LOESCHE mill LM 46.2+2 CS for dry-grinding of ground granulated blast furnace slag at their production plant in Fos-sur- Mer in southern France.
Ecocem France stands for sustainable development and is the first independent producer of ground granulated blast-furnace slag (GGBFS) in Europe. Ecocem France recycles the secondary material, granulated slag, from the production of cast iron by the iron and steel industry.
Indeed, one of the unique advantages of Ecocem GGBFS is the ability to significantly reduce the carbon footprint of concrete, the material most widely used for building and public works.
According to Ecocem, 1t of ground slag valued in the concrete industry avoids the emission of 900kg of CO2 and extraction of 1.6t of clay and limestone.
The LM 46.2+2 CS for the cement plant in Dunkerque is designed for the grinding of cement clinker and granulated blast furnace slag at a capacity of 105t/h GGBFS. The gearbox will have a capacity of 3.150kW.
Not only the vertical roller mill, but also the complete mechanical equipment for the grinding plant starting from mill feed to the LOESCHE scope of supply.
The LOMA heater type LF 28-L will be a full-inlined type designed to burn natural gas as well as blast furnace gas.
The burner supplied by LOESCHE will be the well-known MSBZ type, complete with fitting rack and local switch cabinet.
The lead time for the main components of the mill and for the additional units included in the scope of supply is 6 to 13 months in sequence to installation schedule. The commissioning of the vertical roller mill is planned for the mid of 2017.
Ecocem France SAS is very happy with the favourable output and the low energy consumption of their LOESCHE mill in Fos-sur-Mer. Thus, with the aim to even further reduce the company's footprint LOESCHE helped with a very compact plant layout, which has been proposed and selected for the cement work in Dunkerque. With this compact plant layout favourable for the environment, it will moreover be possible to also lower the costs for steelworks and installation.
This state-of-the-art grinding plant will be installed very close to Arcelor steelworks for use of their granulated blast furnace slag. This LM 46.2+2 CS will be the 7th LOESCHE vertical roller mill installation for slag and cement grinding in France, maintaining LOESCHE's leadership for this application in France as well.