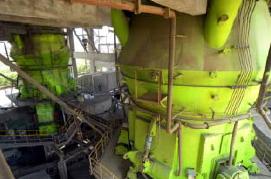 For the PT Semen Baturaja cement plant, the customer Tianjin Cement Industry Design & Research Institute Co Ltd has placed an order for two type LM 53.3+3 CS LOESCHE mills for clinker grinding.
Each of the tried and tested mills for grinding clinker are designed with a capacity of 175 t/h and material is ground to a fineness of 3,400Blaine. Every mill is fitted with a gearbox with a power of 4,200kW.
The lead time for the main components of the mill is nine months and the gearboxes are supplied within 12 months. The commissioning of both vertical roller mills is planned for the end of next year.
The operator of the cement plant PT, Semen Baturaja, is very happy with the type LM 46.2+2 CS LOESCHE mill currently in operation, which was delivered in 2009, and is also happy with the service in relation to the mill. In 2013, LOESCHE GmbH established the subsidiary company PT LOESCHE Indonesia with an office in Jakarta so that the valued customer PT Semen Baturaja and all other Indonesian cement plants can be optimally serviced from there.