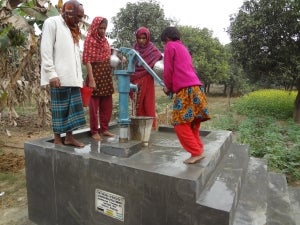 In 2011 Loesche donated to a project of Charity: Water an organisation that initiates world wide projects for clean water. After 1.5 years of planning and building the community of Lutarupara-Molliktola in the Char region of Bangladesh received a tubewell and has now access to clean water and sanitation.
Globalization has many meanings but it is probably most commonly seen as international integration by increasing interdependence of different worldviews, product, ideas and cultures. However globalization also has a different meaning: it affects the environment, the different cultures and their development and progress. Meanwhile, there are some nongovernmental, non-profit organizations that have made it their mission to reduce the negative effects of globalization.
Charity: Water is a non-profit organization that provides clean and safe drinking water in developing countries. About 800 million people on the earth do not have clean water. Charity: Water helps these needy people to reach clean water. But not only that, they form and train a local Water and Sanitation Committee on best sanitation and hygienic practices, safe water storage and water point management. These efforts instill a sense of ownership and responsibility for the project.
Loesche – as an international company – knows it's responsibilty in the world and decided at Christmas 2011 to donate to Charity: Water to support their water projects. 18 month later Loesche has now recived a certificate about the drilled well in Lutarupara-Molliktola, Bangladesh. This was financed by the company. Surface water in Bagladesh is often contaminated with human waste, arsenic and industrial pollution. The drilled well accesses now water from the aquifers far underground which is less likely to be contaminated. This ensure water is available year-round. Thanks to Loesche's donation 347 people in Lutarupara-Molliktola have now access to safe and clean drinking water.
Scott Harrison, founder of Charity: Water writes in his letter to Loesche: "It is hard to convey through a letter the significance of what
you have done. The gift you have made will bring life, health, hope and dignity to people you have never met…" "The change has now been realized, and thanks to you, the people of Lutarupara-Molliktola no longer have to drink water that makes them sick…" "You have done an amazing thing, and I am so truly grateful for your support…"
In December 2012 Loesche donated again to Charity: Water. This time a community in Malawi will receive a tube-well which
spends safe and clean drinking water. 14,000,000 people are living in Malawi, about 3,000,000 people still lack clean water and 44% lack sanitation. Loesche is looking forward on the completion of the project next year and about again have helped a few people.