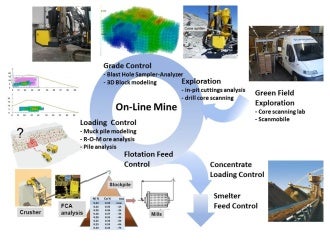 New tools for exploration
IMA Engineering's On-Line Mine concept, technology and solutions are applied in exploration, where drill core scanning technology is used on-site or in drill core storage to speed up the exploration phase and to reduce the total number of samples sent to the laboratory.
The new Sampler-Analyzer analyses drill cuttings with exploration speed and is now integrated on the R/C drill rig, which is equipped with a cone splitter to collect representative physical split samples for the laboratory. Online, real-time analysis data reduces the total number of samples to be sent to the laboratory.
New tools for grade control in production
The IMA On-line Mine concept includes sampling and online analysis solutions on mine production benches for accurate grade control. The new AutoSampling and splitting solution for rotary drill rigs collects representative drill cuttings samples into bags (bag and tag).
Blasthole Sampler-Analyzers for crawler drill rigs (the PDSA model) and for big rotaries (the BSA model) sample and analyse base metal and iron metal drill cuttings with production speed, and the analysis data can be fed into the mine database to be readily used in mine planning software.
New loading control tool
Ore loading into the crusher is controlled by new Fast Conveyor Analyzer (FCA), which analyses the ore grade accurately by dumper load right after the primary crusher. Ore grade to the mill can be kept consistent even with complicated ore bodies.
---
Image: IMA's Sampler-Analyzer analyses drill cuttings with exploration speed. Photo: courtesy of IMA Engineering.
Low-cost pre-concentration of run of mine ore from muck piles or from old low-grade ore...