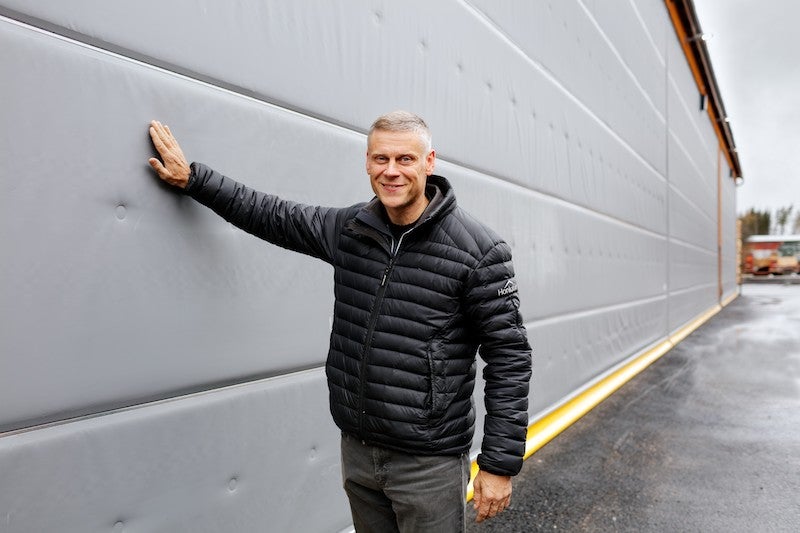 On leap day in 2008, a fire broke out at the Honkatalot house factory. Almost all of the 3,000m² main hall was destroyed by flames, only the floor and a few concrete beams were left standing. In the aftermath of the fire, CEO Mr Vainionpää began to think about how they could solve the logistics of goods going in and out as a whole, with units coming in and out lengthways in one hall and sideways into another. Help was found at Champion Door.
The over 100-year-old family-owned company has its main production facilities in Alavus, with offices throughout Finland. Honkatalot specializes in architectural log houses. In addition to delivering houses to the domestic market, deliveries are made to Central Europe, the Far East and Russia.
The doors of the burned production facility were sliding doors with wooden and aluminium frames. The doors with wooden frames were very heavy, making them difficult to move. In addition, they took up a lot of space while sliding into the other rooms.
Even the sealing of the wooden-framed doors was difficult and it was important to keep the hall warm because we had sensitive machining tools that require warm conditions, says Harri Vainionpää, owner and CEO of Honkatalot.
The problem with aluminium doors was their sensitivity in an environment where massive and long logs, beams or other structures of small houses are handled and moved. The longest movable pieces are up to 13.5m long.
A big dent was made if some part crashed into the aluminium door. At its worst, the door could no longer be used at all, and they were brought out the rear quietly. Aluminum was a completely wrong material for such a material handling plant, Mr Vainionpää remembers.
Chance jumped into the game
When thinking about new door solutions, the return to the familiar but inoperable aluminum frame doors was already in Mr Vainionpää's mind, but coincidence came in at a local gas station.
I saw a magazine advertisement for fabric lifting doors for agricultural purposes. I started to think that they wouldn't take the hits and even if they did, they would be easy to replace.
From that sitting, Vainionpää contacted the company: Champion Door.
At first, they thought that we only needed a few doors, but on the spot, it became clear that we needed 22 doors for a challenging production environment. However, they were not alarmed.
Motorized industrial doors for the future 
Initially, Honkatalot thought they could manage with manual lifting doors, but Champion Door made an incredible offer for powered doors.
In retrospect, of course, we needed motorized doors for this kind of activity. Champion Door was able to think far and wide about our company needs.
Door solutions were also tailored to the needs of Honkatalot. For example, one 50m-long wall is full of doors. It has multiple openings and optimally serves for moving log packages of up to 13.5m in length out of the hall sideways.
Now we have the best possible doors for this kind of house production, no other door solution could have been so good. They keep the warm inside, are functional and not prone to strikes.
Trust in Champion Door continues to carry years after the large order: the collaboration continues 11 years later. All in all, Honkatalot has already ordered nearly 30 Champion Door industrial doors for various facilities and locations.