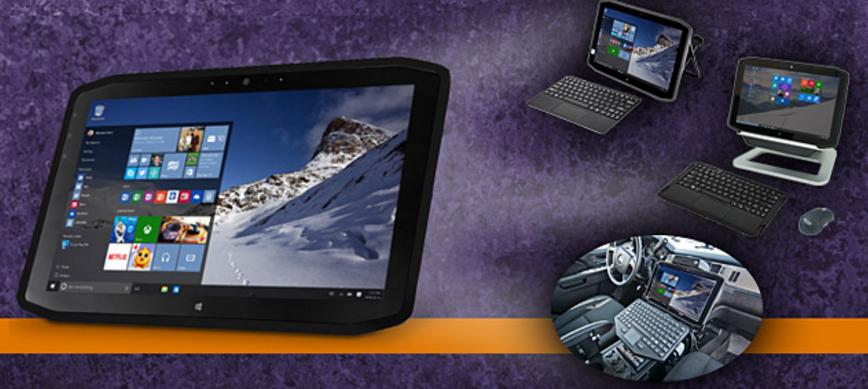 According to a recent IDC study, widespread interest in detachable tablets is increasing, mainly due to their productivity-centric design and that they can easily transform into a notebook or desktop replacement when the accompanying keyboard is deployed.
We're not surprised. Xplore has been exclusively in the tablet business for more than 20 years, designing and delivering customer-defined tablet solutions since day one. We've always maintained a strong pulse on what enterprise and field service mobile workers want, and delivered exactly what they need.
The tablet and keyboard combo has always been appealing to workers. Of course, we know (because our customers tell us) that the rugged tablet is the only PC form factor durable enough, powerful enough, and lightweight enough to create a completely functional mobile office environment for the walking and working force without compromising on computing capabilities traditionally found with a desktop. But we also know that some primarily field-based personnel prefer to use a keyboard to complete more data-intensive tasks when they do have an opportunity to sit down and work. That's why some organisations have attempted to utilise notebooks for mobile workflows, but they're still not mobile and fail fast in the field.
With that in mind, Xplore has worked collaboratively with customers for years to engineer and deliver tablet-based solutions that support wireless keyboard utilisation when needed and provide a detachable stow-and-go solution when they don't. But we've also committed to building for the future, leading Xplore's rugged tablet platforms to only gain increasing relevance while other PC technologies come and go. With each new rugged tablet platform, we work to integrate every I/O connectivity, communications, data consumption and data creation capability that our customers tell us they need now and anticipate they'll need five years from now.
Today, we've succeeded in fulfilling that commitment once again with our delivery of another new customer-defined platform that will usher in the next generation of mobile computing for professionals in the public safety, manufacturing, utility, construction, and insurance industries, among many others.
The Xplore XSLATE R12
Some say this transformational 12.5in tablet is a powerful two-in-one backed by the industry's only magnetically-attached, Bluetooth™ connected companion keyboard, which is always on standby but never in the way. Others call it the industry's most flexible tablet-based notebook-desktop combo, able to effortlessly travel with you on foot or in-hand for miles, or sit securely in a dock when you need a high-performance desktop or in-vehicle solution.
At 2.95lb, it's designed to be any computer you need to do your job, no matter where you work or how long you're on the clock. And it comes standard with every option you need to transition effortlessly from the field to the vehicle to the office and back without interruption or delay. In fact, the XSLATE R12 is the only enterprise-ready mobile computer, rugged or not, that is intrinsically safe for use in hazardous locations, secured to government-mandated standards, and built with the exclusive, and highly specialised, feature combinations you need to support every worker and every workflow with a single mobile PC solution.
Best outdoor-viewable display in its Class: 800 Nit View Anywhere™ technology protected by Corning® Gorilla Glass®
Pass-through antenna capability for WWAN, WLAN, and GPS in both tablet and secure mobile dock
Highly secure to government-mandated standards via multi-factor authentication, including optional Smart Card/CAC and fingerprint readers
RJ-45 and RS232 true serial port dongle option
Band 14 ready
Consolidates and centralises your computing functions, all powered by an enterprise-ready combo: 7th generation Intel® Core™ i7 processor with Windows® 10; or 6th generation Intel® Core™ i5 with Windows® 7, 8.1 or Windows® 10
Magnetically-attached, Bluetooth™-connected companion keyboard that can turn your tablet into a laptop or desktop replacement, or stow and recharge when you're on the go
But these are just a few of the features we've integrated into the new XSLATE R12 to optimise it for mission-critical, mobilised professionals and ensure it's always ready, and always the right form for the task at hand.