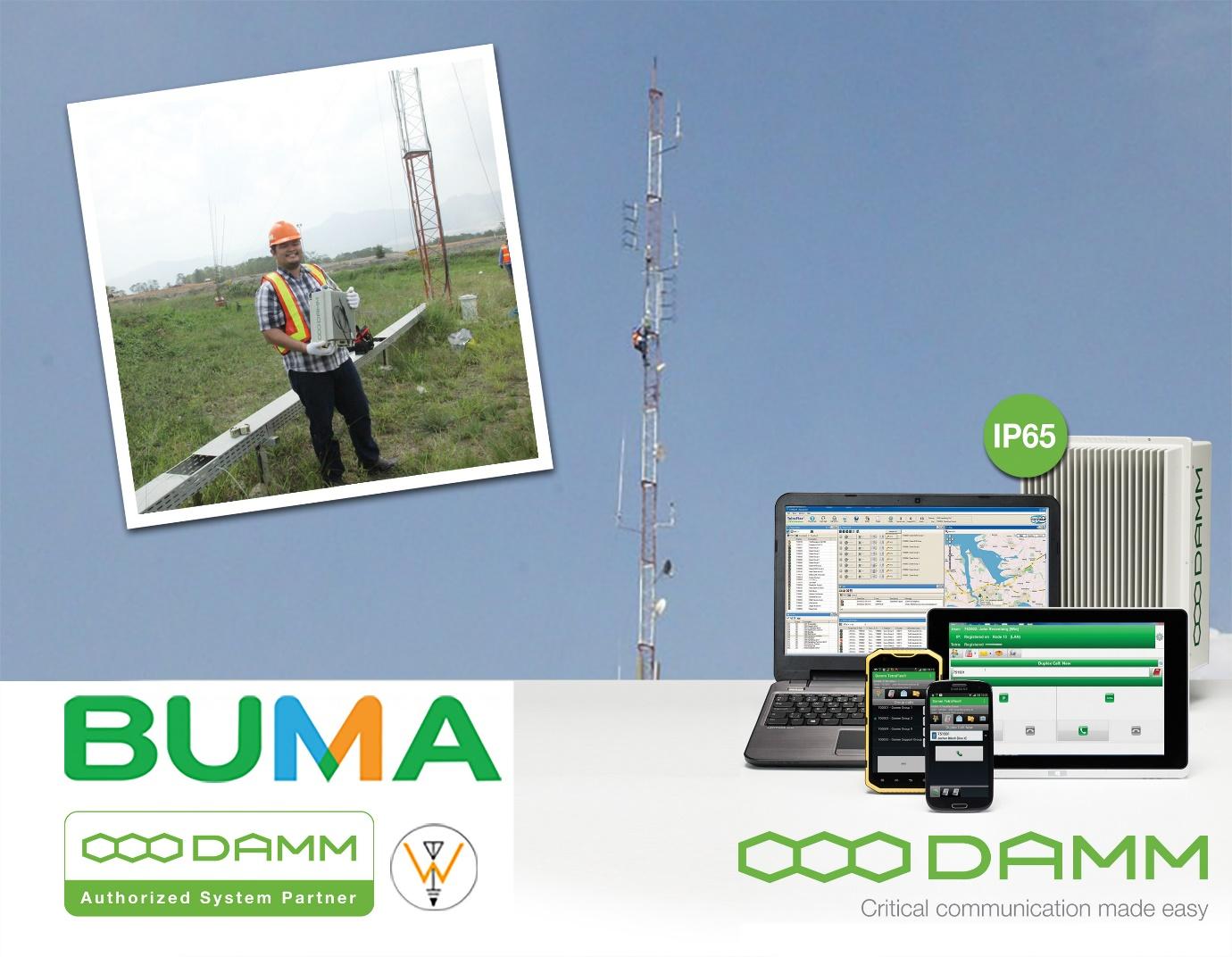 Indonesia's second-largest coal mining contractor, BUMA, selects DAMM´s rugged and reliable TETRA solutions for critical radio communication in the Open Pit Mine of Kideco.
The challenge
Working mainly in coal-production the single most important challenge for BUMA was to secure reliable and fail safe communication at anytime. Making million dollar decisions every day, workers and managers in coal mines rely heavily on communication to keep the business moving. This means that access to information and communication anytime and anywhere is key both for workers and managers.
The solution
To secure critical communication across technologies DAMM provided a dual carrier multi node outdoor system, including built-in applications such as Dispatcher, Voice and Application Gateways, as well as Group Bridge; bridging TETRA to existing analogue networks already operating in Indonesian mines. With easy integration to third-party applications such as AVL, DAMM was the ideal choice. To fulfill the need for non-critical voice and data communication, DAMM provided the TetraFlex Android Client enabling TETRA on soft terminals, in this case via WiFi.
DAMM is represented in Indonesia by Authorised System Partner Wellracom Group.
Mr S Jagyantama, managing director of Wellracom Group stated: "DAMM has a proven track record in the mining industry.
"The challenge in the mining industry in Indonesia is to secure communication 24/7 to minimise any disruption to operations. Based on a true IP-backbone DAMM TetraFlex® offers a reliable, decentralised architecture, and provides easy access with an open API."
TetraFlex® offers integrated cross-platform technology solutions for critical communication.
DAMM TetraFlex® is the most rugged, reliable and easily scalable TETRA communication system for mining:
Optimised for direct installation in harsh environments the DAMM TetraFlex® outdoor base station with IP65 enclosure offers full redundancy. Additionally the 100% IP-based distributed architecture gives full flexibility in site and capacity expansions – even during operation
Creating valuable interoperability bridging to analogue, TETRA and TetraFlex® networks. Integration to analogue networks with the TetraFlex® Group Bridge Application
Benefit from coverage extension with TetraFlex® Android, Windows and iOS Client – a vendor independent soft terminal, operating through WiFi, WiMax, UMTS(3G) and LTE(4G) networks
Please contact the company to learn more about the intelligent IP-based world of Critical Radio and Broadband Communication with DAMM TetraFlex®, offering integrated solutions based on a true IP backbone.
TetraFlex Outdoor Base Stations systems provide the most reliable and rugged technology for communications tools.The...