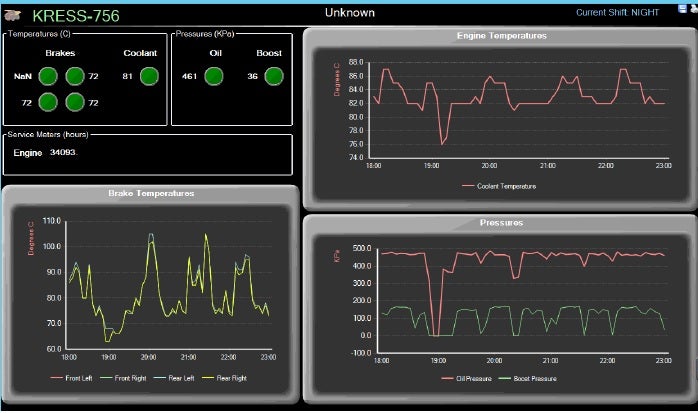 3D-P and iVolve have recently completed the initial deployment of a cost-effective, scalable open platform asset health solution at the North American Coal's Sabine Mine in Hallsville, Texas.
With 5 Kress Coal Haulers running, the Sabine Mine was looking for an affordable asset health solution that would provide them with real-time maintenance information and the necessary scalability as the mine requirements increased.
Sabine decided that the 3D-P Maintenance Reporting System, powered by iVolve, would best meet their requirements.
The deployment provided a solution that met Sabine's requirements while staying within their budget. The open architecture of the 3D-P hardware provided the necessary flexibility required for the mine to evolve and integrate with their existing technology investments.
Running on the 3D-P Intelligent Endpoint platform, the Maintenance Reporting System communicates with the truck's on-board systems to extract the data it needs.
Captured data is displayed in real-time both in cab via the on-board screen and to the remote operation centre using the iControl dashboard.
iControl enables Sabine personnel to monitor, record and replay vehicles' critical parameters including engine hours, fuel level, etc. Machine events are also captured and geo-stamped, and truck locations can be seen live.
Installation of the on-board equipment on the first haul truck was completed in one day and the remaining truck installations, scheduled for March 2017, are expected to take half a day per machine.
Following completion of the health installation, Sabine will be deploying the 3D-P Production Reporting System to provide real-time monitoring and recording of all aspects of the haul truck production cycle including load cycle, load tonnage, load pass as well as centre of gravity, material, queuing and loading states.
Sabine Mine maintenance manager Matt Hampton said: "The 3D-P team was very professional, organized and helpful from start to finish. The efforts that went into coordinating the project were well above the norm.
"Customer service was clearly their focus prior to the sale, throughout the planning phase and especially during and after implementation.
"I sincerely look forward to working with the 3D-P crew again in the future."