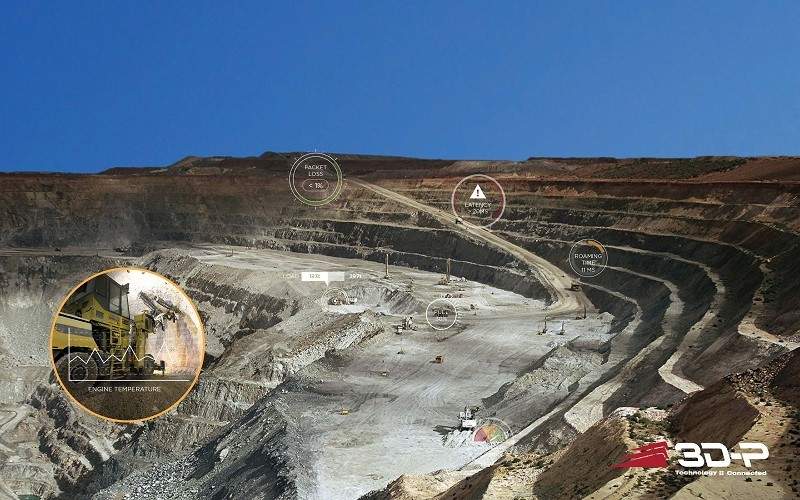 Running a digital mine requires access to real-time monitoring data on all of your assets. With the large expensive equipment out in a mine, it's easy to overlook the network that is relied upon to bring that data back to the office.
As your mine becomes more digital, accessing that vehicle data through your network becomes more and more critical, and monitoring your network assets become equally critical.
A Mine network isn't an office network
Monitoring your network in real time provides a number of advantages, and it has to go beyond just looking at what's on and what's off. Being able to predict what is about to shut off, or an oversaturated link, in real time allows you to pro-actively deal with these issues before they become critical.
For example, monitoring battery health in a solar trailer, or frame utilization at your backhaul layer are both vital points of data that can allow you to maximize network uptime and provide predictive information on future network expansion.
Immediately dispatching resources to the correct critical points of infrastructure when they do fail can save many hours of troubleshooting trying to identify the bad actor in a network. Having a real-time monitoring solution that goes beyond just a ping is crucial in this identification and remediation process.
Not all network monitors are the same
While there are many choices out there for network monitoring, miners require a mining specific platform that allows for monitoring a multitude of data types, on any network type, to give you the power to quickly and easily address issues before they cause downtime.
The appropriate network monitoring should give you the data you require to keep your network up and running while reducing the noise generated by a typical network monitoring solution designed for a corporate or business network.
The data should be presented simply and precisely to allow you to act quickly on small problems before they become big problems that cripple your network. Rather than addressing a failed infrastructure point that has caused a total "network down" event, you can predict its failure and take corrective action before it fails.
The ability to customize alerts to suit your specific mining applications is critical. Not all applications are created equal, and this level of customization on each type of alert allows you to make sure you're not getting alerted for insignificant changes in your environment.
At 3D-P, we call this network monitoring solution, Insight. 3D-P knows mining and has built this tool with the miner in mind. Customizing Insight alerts to show you what you need to know quickly turns it into a very powerful tool in the hands of administrators. It is much more than just a switch port activity monitor.
Real world experience
The deployment of Insight to a mine in northern Canada has resulted in improved network uptime, improved asset health, and a reduction of overall cost of equipment replacement. Efoy powered solar trailers are quickly troubleshot for any solar or generator power issues, solar trailer batteries are identified as requiring replacement, and KPI's are provided to management so they can see a quick report on the health of their network without having to know all the ins and outs of its operation.
Monitoring traffic at each access point allows the team on the ground to quickly identify trailers that are being under-utilized and can be used to supplement new coverage areas as the mine moves. Insight has allowed the mine to create and maintain an autonomy ready network that can sustain the small unpredictable failures by always providing the information needed to mitigate the big failures.
Monitoring your network in real-time provides you, your team, and your management the ability to quickly address problems and issues that are about to cause you big problems. Doing this in a mining specific context with 3D-P's Insight product can help you increase production, optimize asset utilization and minimize downtime across your site.
To learn more about Insight and what it can do for you, please contact us today!