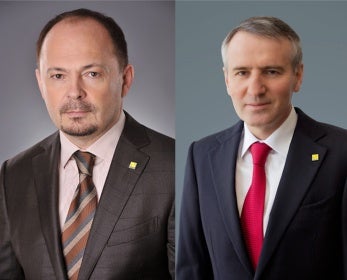 Oleg Rozenberg has been appointed as the new CEO of Interpipe. Rozenberg previously held the position of Chief Operational Officer at the company. Olexander Kirichko, the previous CEO, will now take the position of Chairman of Board of Directors. Former Chairman, Kirill Rubynskyi, will continue to co-operate with Interpipe as President of the company and a Member of the Board of Directors.
Staff changes are part of the reorganisation of Interpipe's management system. As the new CEO, Oleg Rozenberg will focus on increasing the company's efficiency. His area of responsibilities will include procurement, production and sales.
Rozenberg said: "The company's short-term goal is to increase the business' efficiency by reviewing cost reduction procedures, improving co-operation between the production and sales units and amending processes that slow down development."
The new company model will be strengthened by the new Chairman of Board of Directors. Apart from its current functions, the Directors Board will be responsible for the development strategy and human resources development.
Kirichko said: "The new company model separates out strategic and operation administrations ensuring the company is more sustainable to short-term and long-term challenges. These changes aim to strengthen the role of the Board of Directors as the body that communicates shareholders interests."
---
Image: Interpipe announces new Chairman of the Board, Olexander Kirichko (left) and new CEO, Oleg Rozenberg, (right). Photo: courtesy of Interpipe.
Interpipe's readiness and willingness to consider special customer requirements in respect of chemical composition, wall...