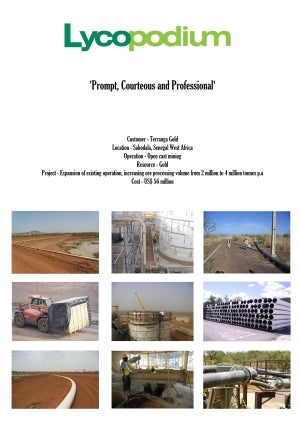 Lycopodium Minerals QLD is an EPCM company specialising in precious metals mineral processing plants. During a recent project we engaged EPCO, Leeds, England, to source a range of products to facilitate plant construction.
EPCO Ltd's responses to all of our queries were prompt, courteous and professional.
As we are based in Queensland, Australia and EPCO are based in Leeds, England, the majority of our communication was conducted via email. EPCO's understanding and clarification of our initial requests was always prompt and succinct, which ensured the correct product was purchased and in turn proved to be a great time saver for the delivery to site.
EPCO have proven themselves as a reliable source for a wide range of products that were required to comply with various national / regional standards.
Examples of our purchases are:
HDPE pipe and fittings
CS pipes and fittings
Electrical cable
Hand tools
Grout and other surface treatments
EPCO were able to clarify anomalies and offer alternative products to meet the specifications provided in all scenarios, which is a credit to their technical know-how.
Several of our requests from EPCO were during the construction stage of a mine site where it is critical to maintain progress with respect to the schedule. EPCO's ability to expedite delivery and dispatch to meet their quoted lead times proved invaluable to our construction team.
In summary, I would happily utilise EPCO's services again.
– Matthew Barnes, Senior Procurement Officer
THERMO+ PE100 co-extruded pipe is a co-extrusion of black inner and white outer PE100 material forming a homogenous bond between two layers.
This company brochure details epco-ims' range of socket fusion equipment, electrofusion welding equipment and butt fusion equipment.