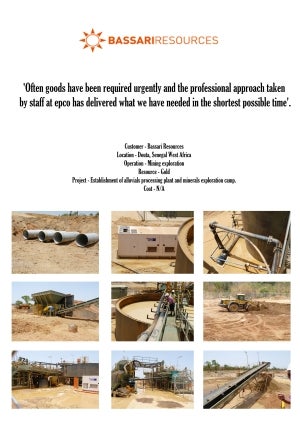 Bassari Resources Limited is an Australian listed company focused on discovering multimillion ounce gold deposits in the Birimian Gold Belt, Senegal, West Africa. As a supplier to Bassari's operations in Senegal, EPCO has provided exceptional service over a number of years.
EPCO's ability to source and provide a wide range of products in an efficient and timely manner, both in relation to our mineral exploration projects and during construction of production facilities is exceptional. The expediting of goods and delivery of parts and supplies to Senegal has been within required timeframes and importantly within specifications. On occasions, goods have been required urgently and the professional approach taken by staff at EPCO has delivered what we have needed in the shortest possible time.
We have also found after-sales service to be exemplary. Operating as we do in a remote part of West Africa, this is a critical to Bassari's success.
We look forward to continuing our association with EPCO in the future.
– Jozsef Patarica, Managing Director / CEO
THERMO+ PE100 co-extruded pipe is a co-extrusion of black inner and white outer PE100 material...