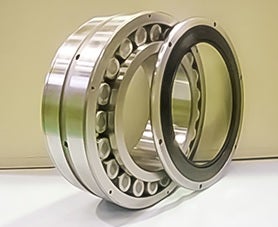 NSK announced that Queensland Mining Contractor named NSK as a finalist of the 'Best Product Launch' category 2016 awards for the new NSK long-life sealed spherical roller bearings featuring high reliability and excellent sealing performance for conveyor pulleys in mines.
Best Product Launch Award category recognizes the most innovative product launched during 2015/2016 and NSK was amongst four finalists. According to the organizer, this is the first time a bearing manufacturer has received such recognition.
NSK Long-Life Sealed Spherical Roller Bearings are designed to operate in heavily contaminated conveyor puller applications, extending component life, as well as featuring an easy installation process.
Offering perfect compatibility with conventional products as it conform to ISO dimensions, this new product uses NSK's long-life materials technology and special heat treatment to offer equivalent or better load capacity for the same size as the conventional products.
The world's first spherical roller bearing equipped with a detachable seal, delivers outstanding sealing performance against foreign substance intrusion. The bolt-fastened seal holder in the design makes it possible to remove the seal during assembly and measure the clearance. This enables the prevention of damage such as flaking and seizing due to incorrect clearance during installation.
Hosted by the Bowen Basin Mining Club, the Queensland Mining Contractor Gala Awards 2016 recognizes excellence and achievements that are unique to the highly competitive work environment of mining industry contractors.
This year, the awards, were given in five major categories: Cost Saving Initiative, Time Saving Initiative, Staff/Community Engagement Initiative, Best Product Launch and Project Innovation.
The awards are peer-judged, and this year's judging panel comprised of senior executives from diverse backgrounds in the mining and resources sector and the finalists selected for the quality outcomes they provide to mining, exploration and production companies, as well as for their commitment to innovation and the delivery of projects and initiatives that are safer, smarter, faster and more efficient.
The gala awards were held in conjunction of the Queensland Mining & Engineering Exhibition (QME) 2016, which showcases latest innovations, technology and solutions for the mining and engineering industries by more than 200 exhibitors.