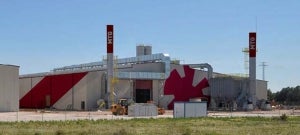 MTG announces the inauguration of its new plant located in Monzon, Spain, in 2013. With over 15,000m² facilities within an operating area of 70,000m², the factory's foreseen initial production is 10,000t with the possibility of increasing significantly its capacity in the future.
"What makes this factory so special, besides being equipped with the most innovative technology in melting manufacturing, is the special equipment that allows us to control the steel alloys to an optimum and makes it possible to produce bigger wear parts for mining and heavy construction without the risk of breakage or damage during heavy duty", says Raul Rico, MTG's Industrial Operations Vice President.
Visitors will also benefit from the latest technological innovations: the factory incorporates an augmented reality guided tour which will allow MTG's guests to fully experience the factory's production cycle, even the areas restricted to public for safety reasons.
The plant has been specifically oriented to expand the company's available product range towards larger mining and heavy construction wear parts. MTG will continue to own its existing plant in Premia de Mar, Barcelona and, with both plants, will continue to collaborate in the revitalization of the Spanish industry creating new employment opportunities in 2013.