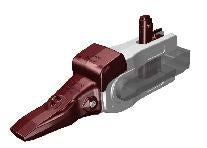 During Bauma Munich 2013, MTG will be displaying its optimised solution for electric cable shovels.
The adapter, commonly known as 'whisler' is made with MTG Steels, which has been proven to be significantly more resistant than the competition. It can be combined with an extensive range of MTG's teeth, including the new teeth MA500RS and MA500RSX, which have been especially designed for its use on electric cable shovels.
During extensive test phases, MTG's whisler has proven excellent performance under the hardest real conditions ensuring the maximum quality is achieved under any application. "Our production facilities are equipped with state-of-the-art technology making optimum steel alloys that can guarantee big wear parts like our whisler will resist heavy applications without breaking despite their size" said Joan Cesar Galobardes, MTG's Product Manager.
The new MTG whisler is foreseen to be available globally through MTG's distribution network as of the second quarter of 2013, in parallel with the inauguration of MTG's new factory in Spain.
Additionally, during Bauma Munich 2013 MTG will be displaying four new constructions sizes and five new teeth designs for its acclaimed hammerless StarMet system.
With the new available sizes 15, 20, 30 and 40, especially designed for construction and with the designs EX, A and U available on size 180 and the design EX on sizes 240 and 500, MTG fully completes its product range offer for Construction, Heavy Construction and Mining.
The new StarMet sizes 15, 20, 30 and 40 are available for the most popular MTG designs. The new product's main innovation consists on being the lightest and the one with the shortest tooth nose available on the market. They incorporate the new Bilateral MTG Twist fixing system (both the retainer and the pin can be assembled on both sides of the adapter)* which allows the user to introduce the pin through the most convenient side.
---
*except for size 15