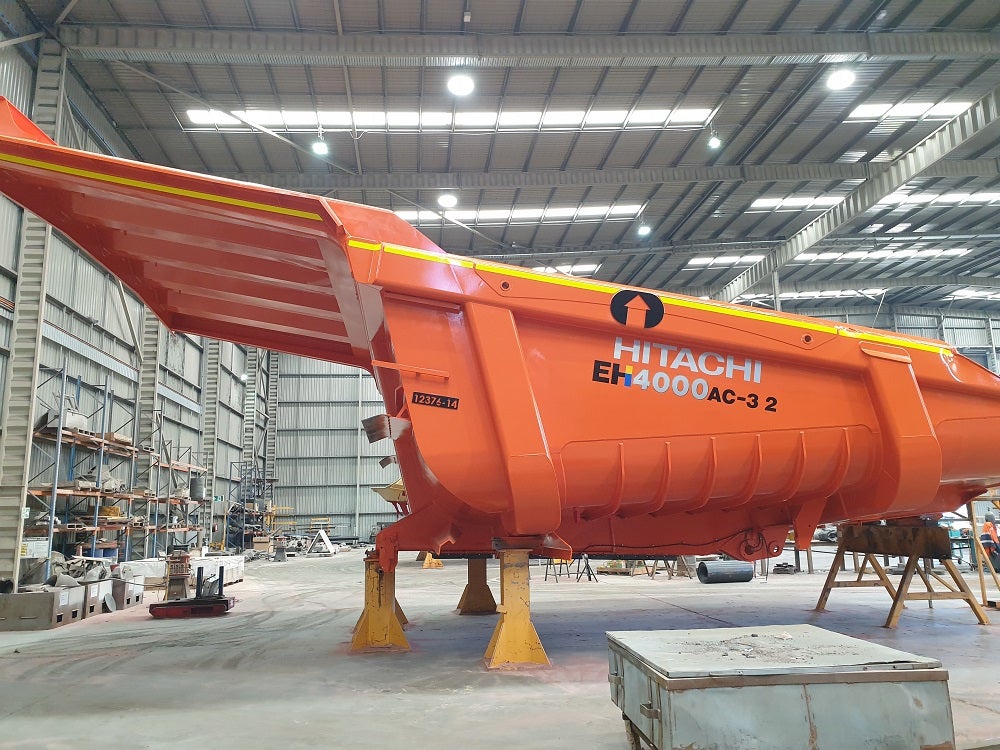 The functionality of mining equipment is one of the most important considerations on a mine site, along with the health and safety of the employees.
In the resources sector, corrosion is a constant threat to equipment and infrastructure, including the often-harsh environment and chemicals that come from being underground.
Also, an important factor to any mine site is the quality and functionality of mining equipment is crucial to success in the mining industry. Major rebuilds and repairs of surface and underground equipment are critical to the sustainability of machinery and equipment.
One of the major areas to be considered in the construction of new equipment and major rebuilds and repairs is the suitability of the paint used to protect the surface of the machinery.
In many applications where machinery needs to be painted, the safety of workers is paramount, protecting the workers from being exposed to harmful chemicals such as isocyanates.    Isocyanates have been in use commercially since 1952 as a catalyst for polyurethane paints, however, it has become increasingly clear that isocyanates can pose serious health risks and lead to illnesses such as long-term respiratory illness, skin and respiratory sensitization, and allergic contact dermatitis, which can have a long-term effect on the health and wellbeing of persons exposed to isocyanates.
With an increase in industry awareness around isocyanates and a tightening of regulations, and companies turning away from polyurethane coatings to inferior coatings as a result, we saw there was a need in the market for a high-performing and extremely durable coating that was not only extremely durable in harsh mining conditions but also did not contain Isocyanates.
In a world-first, A&I Coatings has developed, engineered, and launched the first Isocyanate-Free Polyurethane Coating called Vitrethane 650. Vitrethane 650 is considered a major world-first breakthrough in the coating industry and an advancement of protective coatings specifically used in new builds, major repairs, and maintenance of surface and underground mining equipment.
Developed and made in Australia, Vitrethane 650 is a premium quality two-pack isocyanate-free polyurethane topcoat. Utilizing full polyurethane technology and curing without the use of harmful Isocyanates, makes Vitrethane 650IF a safer, better, and more durable coating than conventional Isocyanate free coatings.
Vitrethane 650 comes in a high gloss finish and is a versatile Polyurethane topcoat with exceptional durability and weathering performance.
Available in an unlimited colour range, Vitrethane 650IF has colour and gloss retention and chemical resistance equal to a high-quality polyurethane.
Vitrethane 650 is engineered to eliminate exposure to harmful isocyanates and is creating a pathway to a sustainable future for both the workplace and the environment, reducing workplace risks and negative health side effects when exposed to Isocyanates in Polyurethane coatings.
Vitrethane 650 contains all the characteristics of a high-performing polyurethane, including:
Flexibility
Weathering performance
Chemical resistance
Abrasion resistance
Adhesion resistance
By displaying the desired balance of mechanical properties, such as flexibility, impact resistance, surface hardness, toughness, and adhesion, Vitrethane 650 can go above the service requirements for a specific application and withstand adverse effects of damage.
A&I is family-owned paint formulating and manufacturing business located in Moss Vale, NSW, which is about 1.5 hours south of Sydney. A&I has complete in-house testing capabilities including blast and paint trialling, accelerated UV and corrosion chambers, scratch, chip and abrasion, freeze/thaw and thermal shock testing. A&I runs a quality system complying with ISO 9001: 2015 and is a registered manufacturing unit with the Australian Paint Approval Scheme.