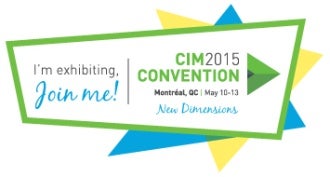 Trimble will showcase its mining technologies at the Annual CIM Convention 2015, a mining conference and exhibition being held at Palais des Congrès de Montréal, Montréal, Canada from 10 – 13 May.
CIM attendees are invited to visit booth 2309 to learn about the Trimble Connected Mine™ platform, a single source of information to empower and assist professionals in the mining environment to make the best possible decisions for the business by connecting all disparate sources of data in the mine and providing a complete view of operations.
Featured solutions on display that enable and contribute to the Connected Mine include:
Trimble Mine Information Systems, the enabling technology of the Connected Mine, are enterprise solutions that eliminate data silos by integrating operational information and exposing it for consumption, analysis and optimisation throughout the mining enterprise
Mine Information Systems apply processes, software and a data hub to validate, integrate, transform and expose spatial, production, workforce, consumables and cost data to provide one trusted source of information. More than 50 successful implementations worldwide have integrated data from Trimble and third-party remote sensors, fleet management and mine monitoring systems, plant control systems and ERPs
Trimble UX5 Aerial Imaging Rover, an unmanned aircraft system (UAS) designed to reduce time, cost and risk to collect aerial data and deliver the reliability needed for boundary and topographic surveys, progress monitoring, as-builts and volume determination in hard-to-reach and hazardous mining areas
The use and value of data from all types of imaging, sensing and mine monitoring technology, such as UX5 data, can be exploited in the Connected Mine.
---
Image: Trimble will be exhibiting its latest solutions for mining at CIM Booth 2309. Photo: courtesy of Trimble.
Trimble has introduced an enhanced version of Work Management, a cloud-based solution designed to improve...