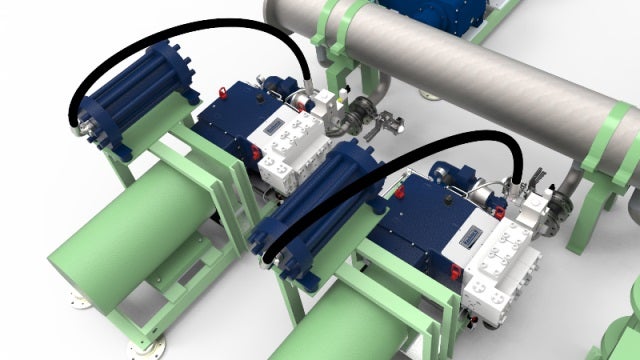 Hauhinco supplied an Iranian pipe mill with a hydraulic system for a pipe testing press for the first time in 2002. Engineers have recently visited the site almost 15 years on.
The system is designed for testing processes with volume flows of up to 580lpm at test pressures with up to 350bar.
In addition to difficult operating conditions such ambient temperatures of more than 50°c and a poor fluid quality, a maximum pressure pulsation of +/- 1% at the tested part was allowed.
In order to meet these required performance data, Hauhinco designed a direct pump drive.
Frequency controlled Hauhinco high pressure plunger pumps, resonators and automatic back flushing filters were used within the system.
Shortly after the Hauhinco team installed and successfully commissioned the system, the political situation changed and the common Hauhinco after-sales support was not possible.
Nevertheless, the customer was able to successfully keep the system running up to this day. The customer only had the small spare part package from the initial delivery and a highly motivated maintenance team during these years.
Due to the changes in the political situation in 2016, a revival of the old business relationship was possible.
For the first time after 2002, the same engineers, who had designed and installed the original system, visited the customer and examined the system, and -in view of the circumstances- the system was still in a good condition.
The heart of the system, the Hauhinco plunger pumps, were still running very reliabe after 15 years in operation.
Hauhinco fulfills all the necessary legal requirements and has the appropriate export permits to supply Hauhinco products to Iran. It was also necessary to provide the customer with a reliable business transaction with renowned German banks.
As a next step and in close cooperation with the customer, Hauhinco would like to modernize the old pipe testing system with today's Hauhinco technology standard.
The goal is to make the plant even more maintenance-friendly, more efficient and more productive.
This project is the basis for establishing modern water hydraulic systems in Iran, in collaboration with our Iranian partner ZST.
We are looking forward to taking part at AISTech 2018 in Philadelphia, PA, US, from...