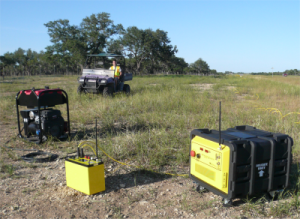 The PowerSting is a series of external high-power transmitters (5kW, 10kW, and 15kW) for the SuperSting R8/IP/SP and SuperSting R1/IP/SP. The PowerSting system is a fully programmable constant voltage/constant current source, and comes with an SGS generator and a wireless repeater box, and operates in both wired and wireless modes.
The applications of the PowerSting-SuperSting system include vertical electrical sounding, 2D electrical imaging, 3D electrical imaging and 3D offset electrical imaging of a 2D survey line in both manual and automatic modes.
Key Features:
The PowerSting is a fully programmable external high power (constant voltage/constant current) source used with either the AGI SuperSting R8 or SuperSting R1 instruments
The PowerSting can be used with a wired or wireless connection to the SuperSting receiver
Multiple PowerSting transmitters can be interconnected to increase the output voltage/current.
The PowerSting has an instrument auto shut-off in the case of input power loss, overheating, over voltage or over current
Advanced Geosciences offers geophysical and geotechnical equipment to help clients locate gravel and clay deposits.The...