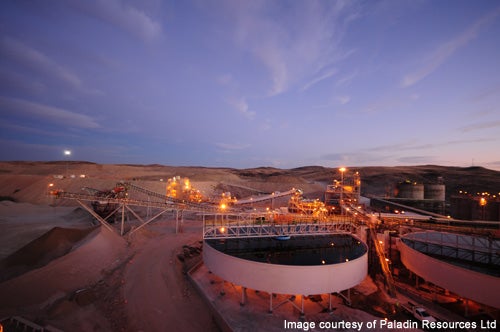 Australia-based uranium producer Paladin Energy plans to scale down mining costs by $60m to $80m during the 2013-2014 financial year, as it begins its transition from development to sustained production.
With declining prices of uranium across the globe, the company believes the review to be imperative, although the recession "does not detract" from the mid to long-term fundamentals of the commodity.
"The current price environment does not support any expansion strategy or new development.
Paladin said in a statement that it would require a "sustainable uranium price at or above US$85/lb to warrant any further expansion or new mine development."
The company seeks to lay emphasis on enhancing operational efficiency and expects substantial gains over the next two years.
Under the review programme, Paladin examined all activities within the group including mining operations, corporate/administration overheads, future development considerations, exploration, sales and business development.
While the review is still ongoing, the miner will consider renegotiating key mining and consumables contracts for material cost reductions.
Key mining cost improvements, discretionary spending and contractor rationalisation will result in a 7.5% unit reduction in costs amounting to $10m at Langer Heinrich Mine and Kayelekera Mine in FY2013 and an additional 7.5% and 15% cost reductions at the respective mines in FY2014.
Exploration costs will reduce by 20% or $4m, primarily through cutting back on non-essential drilling. Corporate overheads are also projected to reduce by 10%.
The company expects further operational efficiencies via technical innovation and other production optimisation improvements, which will be released in the Q4 report.
---
Image: Paladin will cut mining costs at the Langer Heinrich Mine in South Africa. Photo: Paladin Resources Ltd.