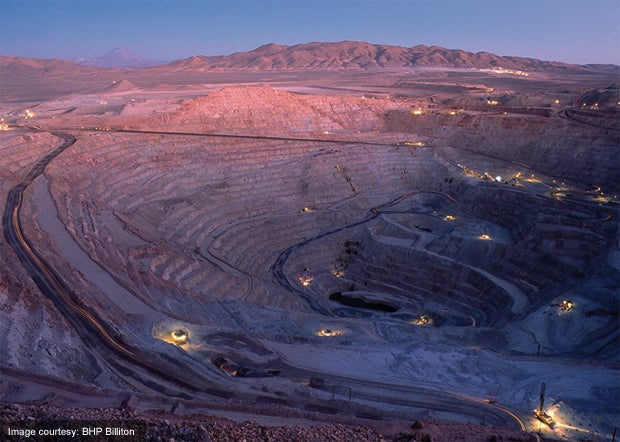 BHP" width="300″ height="214″ />
Anglo-Australia mining major Rio Tinto and BHP Billiton are set to jointly invest around $3bn in the construction of a seawater desalination facility at its Escondida mine in Chile.
The Escondida copper-gold-silver mine is located in the arid, northern Atacama desert, about 160km south-east to the port of Antofagasta, at an elevation of 3,050m above sea level.
The Escondida mine is a joint venture between BHP-Billiton, Rio Tinto, JECO Corporation and JECO 2.
BHP holds a 57.5% stake in the mine, Rio Tinto owns 30%, while JECO Corporation and JECO 2 hold a 10% and 2.5% interest respectively.
The new 2,500l sea-water desalination facility will cost $3bn; Rio Tinto will contribute $1.03bn in funding while BHP will provide $1.97bn.
The facility will provide a continued water supply to Escondida's new OGP1 copper concentrator, which secured approval in February 2012.
The miners said the facility will also reduce the mine's dependence on the region's aquifers.
Construction of the project is scheduled to begin in July 2013 with commissioning scheduled in 2017.
The seawater desalination project will include two pipelines, four high pressure pump stations, a reservoir at the mine site and a high voltage infrastructure to support the system.
BHP Billiton Copper president Peter Beaven said obtaining a sustainable water supply in the Atacama desert is a priority for all copper producers in Chile.
"The new desalination facility will minimise our reliance on the region's aquifers, which will help us to meet our environmental commitments and enable us to achieve our long-term business strategy," Beaven added.
In February 2012, BHP Billiton approved an investment of $2.6bn to replace the Los Colorados concentrator with a new 152,000t per-day plant and allow access to higher grade ore located underneath the existing facilities.
The mine's operations are projected for 34 years.
---
Image: Escondida copper mine is located 3,100m above sea level. Photo: Courtesy of BHP Billiton.