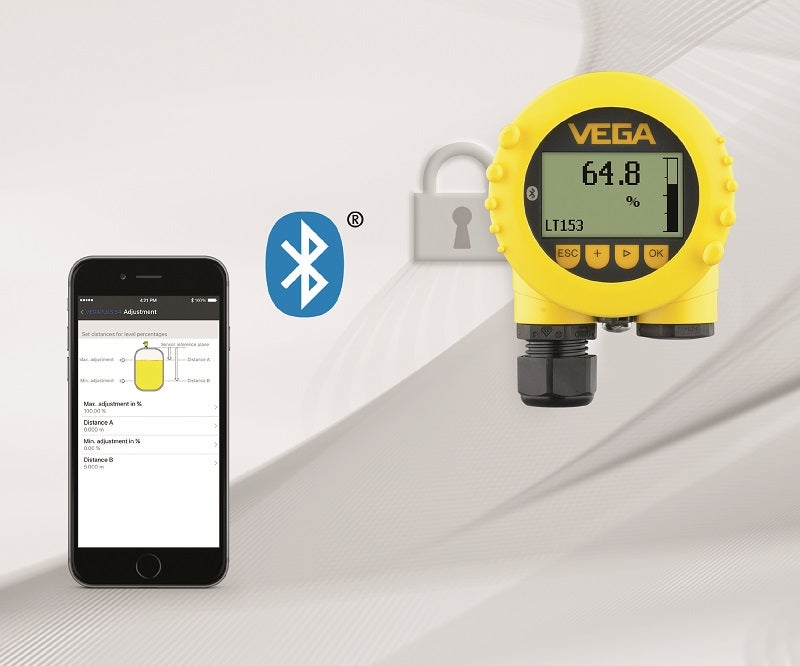 IoT4, or industrial Internet of Things, is the introduction of modern technology to improve the productivity and safety of numerous industries, including the mining sector. Digital transformation has revolutionised the way that industry approaches maintenance, processing and safety culture.
Adapting to new technology and moving away from traditional methods is daunting, especially in an industry with long-established practices. People who have worked in the mining and tunnelling industry may also feel that this change will make their job more complicated and require technological expertise. However, according to Vega, not only does integrating IoT4 devices mean that mines will be safer and more efficient, but intuitive software and training means that life will be easier for those working with it.
All Vega transmitters are fitted with Bluetooth communication. This means that data from these transmitters can be remotely accessed and stored in real-time, without the need to close down parts of the mining operation. Vega managing director John Leadbetter spoke with Mining Technology to explain how mines are benefiting from Vega IoT4 devices.
"We introduced Bluetooth communication about three years ago," Leadbetter explains. "That was the introduction for us in regards to moving towards the Internet of Things. What we looked at there was simplifying the process, mainly for those maintaining on-site, so that they could access the equipment via tablet or smartphone by downloading a simple app from the app store that gave them access without interrupting the equipment cycle. We didn't have to break into the circuits or bypass or put it in a calibrate mode. We only needed a parallel system that allowed them to quickly and easily access information or make any adjustments."
"When you're working in a mining operation, there is a lot of dangerous equipment. As Bluetooth has a range of up to 15 metres, personnel can stand in a safe position and access that process information from the equipment that may be in an area that would be dangerous to enter. Safer working conditions from a remote position is the first benefit for mine operators."
"The second benefit is the fact that in they're getting that information in real-time. They do not have to download information, go back to their workshops, and upload the information in order to analyse it. This way, they have a better opportunity to make fine adjustments. I think the most important thing that people working in mines have found is that we've simplified the process, so now it's just a case of following the prompts; it's not a complicated program."
One common concern when it comes to adopting technological solutions is that of cyber security. Leadbetter explains that security was a top priority during development. Each piece of individual equipment has its own password, so only authorised personnel can access the information. When it comes to learning to work with new software, Leadbetter adds: "We appreciate that not everybody's knowledge is at the same level. So we've been providing training, either face-to-face over zoom or via webinars. It's important that we support the customer and take them through the interface step-by-step if necessary."