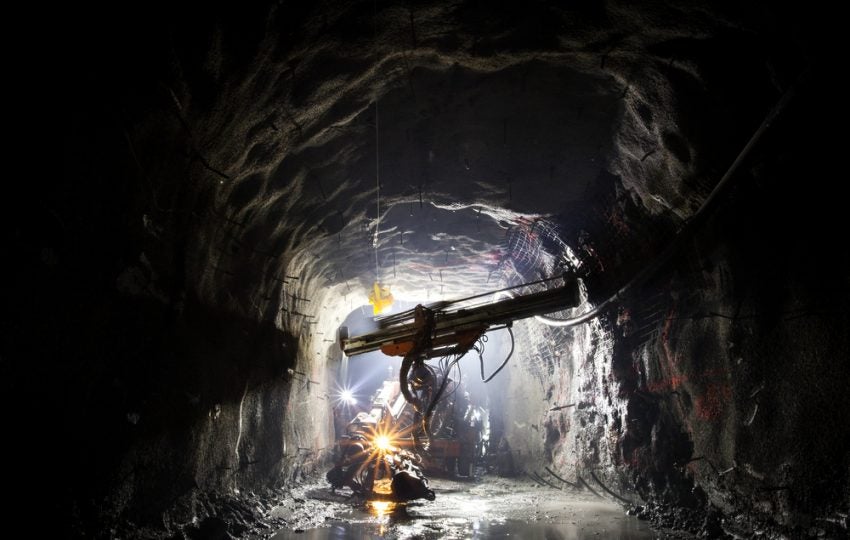 Concrete spraying equipment requires highly skilled workers, so progression towards automated spraying solutions is key to improving efficiently and relieving pressure of the workforce.
It's uses are essential in underground mining. Concrete spraying equipment can be utilised to effectively carry out repair, especially if damage occurs at a height, or apply a sprayed concrete lining (SCL) to reinforce the structure.
Advantages of wet-mix concrete
Sprayed concrete is available as either a dry or wet mix, and there are a number of advantages for both.
For dry mix, water is not added until it reaches the nozzle. A drawback of this method is the release of dust into the atmosphere, which is potentially harmful to workers especially if working in underground tunnels.
Wet-mix shotcrete is pre-prepared. The mix is propelled at the receiving surface using compressed air, producing less waste material, rebound and dust in the environment than dry mix. Using this method, it is also possible to apply greater volumes of concrete in a shorter amount of time.
What are the potential challenges?
Both varieties of shotcrete have potential challenges when it comes to fluidity and pumpability during application. Wet-mix concrete spraying does not allow for adjustable moisture and layer thickness may be restricted.
Workers may also be required to manually assess damage repair, resulting in layer thickness being uneven.
Normet wet-mix concrete spraying solutions
Normet's Spraymec range provides comprehensive shotcrete solutions.
The Spraymec 8100 VC is designed for high-performance wet-mix concrete spraying applications. It is a self-propelled electro-hydraulic sprayer ideal for use in tunnels up to 10.3m high and 16m wide.
Featuring the NorSmart control system, it provides low-pulsation spraying and pumping, accurate accelerator dosing, fast boom and nozzle positioning, real-time diagnostics of the spraying process, temperature control, data logging and vehicle fault diagnostics.
SmartSpray overcomes issues with inconsistency by offering an automated concrete spraying solution, minimising the operator effect and maximising productivity. It is available in Lite, Pro and ProPlus, depending on the application or the experience of operators.
The Spraymec SF 050 D is a diesel-hydraulic self-propelled mobile wet-mix concrete sprayer, designed for use in tunnels for mining operations. Fitted with the Normet NSP 30 concrete spraying pump, it offers a maximum concrete output of 19m³/h. It is customisable, with three accelerator dosing system and concrete pumping control system configurations.
The Spraymec Alpha 1430 PC is a diesel hydraulic mobile concrete sprayer, which is mounted on truck designed for tunnels up to 14m high and 24m wide. Also fitted with the NSP 30, it has a maximum pumping capacity of 30m³/h, as well as an accelerator dosing system that uses a peristaltic pump and an IBC tank with a volume of 1,000L.
The Spraymec NorRunner 140 DVC with NSP 30 has a maximum output of 30m³/h, as well as an on-board compressor with a capacity of 12m³ per minute and 7bar constant pressure. It can be powered by diesel drive or by electric power packs.
To view Normet's full range of Spraymec products, click here.