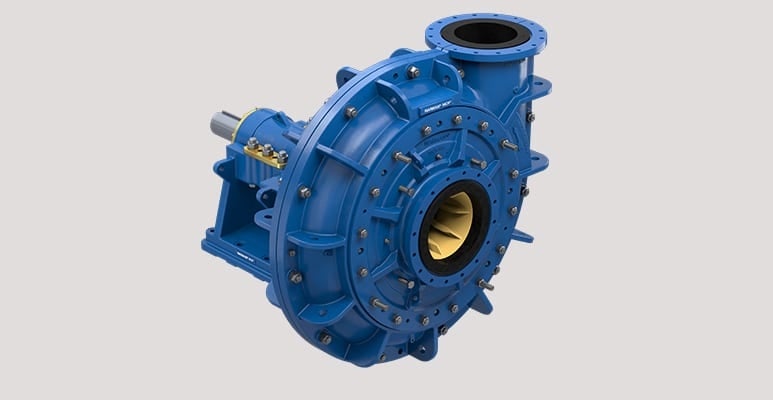 The innovative engineering that underpins the Warman® MCR® slurry pump lowers the total cost of ownership (TOC) for Weir Minerals' customers and provides them with greater value, outstanding wear life and unrivalled reliability.
There are many factors that determine the TOC; the initial purchase cost is of course important, but when it comes to slurry pumps – which are pumping abrasive materials, causing significant wear – the CapEx is often only a small proportion of the overall TOC incurred over the life of the pump. It's vital that operators understand the cost structure of the plant in which the pump is operating; moreover, with performance and predictive data on various component parts, they can build a more complete picture of the slurry pump's TOC.
When working out the TOC of a Warman® MCR® slurry pump, some of the most significant costs to consider include: capital costs; energy costs; maintenance costs; service water costs; inventory costs; availability costs; and associated overheads.
Capital costs
Capital costs include the purchase and installation of the Warman® MCR® pump or pumps, which will vary depending on the quantity and size. In terms of accounting, capital items are considered depreciating assets, allowing operators to claim depreciation loss as a deduction expense each tax year.
Energy costs
The amount of energy a pumping installation consumes depends on the pump efficiency, the drive train losses and the motor and/or motor controller electrical efficiency.Pump efficiency is the biggest determinant of power costs. A slurry pump's efficiency is reduced by the presence of the solids and an Efficiency Ratio (ER) is used to correct the published water performance curve; pump design also has an influence on the ER. The Warman® MCR® pump features a large-diameter, low-speed, high-efficiency impeller, which reduces energy consumption.
Weir Minerals' team of slurry pump experts can provide you with further guidance on how to improve efficiency depending on your specific application. For example, at flow rates less than 60% of the standard impeller best efficiency point, utilising a reduced-eye impeller and low-flow volute will improve pump efficiency. And where pumps may be prone to cavitation, operators should consider maximising the use of low-NPSH-style impellers.
Maintenance costs
Maintenance is a major cost factor for slurry pumps and includes the cost of replacement parts, the labour that's required during overhaul, the service time that's consumed during routine inspection, monitoring and lubrication, as well as the cost of cranes or other equipment. By extending wear life, operators can significantly lower the TOC; the Warman® MCR® slurry pump has a number of innovative features that have been designed with this in mind.
The Warman® MCR® slurry pump features patented shrouds that extend past the periphery of the impeller and expelling vane, providing improved flow and reduced wear at the expelling vane tips. Its large, open internal passages reduce internal velocities and, thus, reduce wear.
Solutions-focused approach
Weir Minerals understands that no two operations are the same, so it works closely with its customers to develop tailored solutions based on their specific requirements and conditions. Evolution Mining's Cowal Gold Operations in New South Wales, Australia, wanted to increase production, while also reach a service life of 24 weeks uninterrupted production to align with major shutdowns and other equipment on site.
The Weir Minerals team installed a Warman® MCR® pump with R55® rubber liners, A65 full face adjustment throatbush and A61 impeller. Because of power limitations from the existing motors on site, they used rapid pattern prototyping to manufacture a custom 82% trimmed impeller for the application. The team also 3-D printed the site to ensure a trouble-free installation and finialised the custom design of connected Linatex® pipework, new cyclone feed line and Isogate® valves.
Weir Minerals' Synertrex® digital ecosystem was fitted to the Warman® MCR® pump and monitored its performance.
Cowal Gold Operations increased production and extended the pump's wear life; the incumbent pump's 12 weeks of continuous operation was significantly improved upon by the Warman® MCR® 550 pump, which achieved 29 weeks. In terms of TOC over one year, the incumbent pump's TOC was AU$2,2K compared with the Warman® MCR® 550 pump's AU$1,7K – saving Cowal Gold Operations nearly half a million dollars.