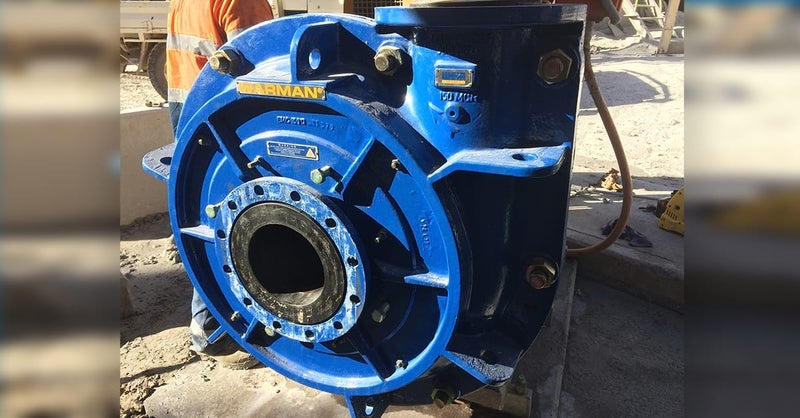 In the first blog post of this series, we looked at how the Warman® MCR® slurry pump lowers the total cost of ownership (TOC) for Weir Minerals' customers. We considered how capital costs, energy costs and maintenance costs influence the TOC; in this post, we review some important ways the Warman® MCR® reduces your operational costs and provides unrivalled reliability.
Service water costs
The costs associated with the use of water to flush the gland of a slurry pump can be split into two components: the supply cost and the removal cost. The former depends on the type of pump – its size and gland type – while the latter depends on the particular process and commodity being handled.
The amount of water consumed by the pump depends on the type of seal. The mechanical seal and expeller or centrifugal seal can be operated without any water injection, but sometimes use small amounts to help reduce wear in particularly erosive duties.
The Warman® MCR® pump has a centrable and low flow design stuffing box. The adjustable stuffing box allows for centring of the stuffing box and lantern restrictor to the shaft sleeve, which increases packing life and decreases gland seal water consumption.
The Warman® MCR® slurry pump's low flow stuffing box is made with tungsten-carbide-coated J221 shaft sleeves. The stuffing box also features close clearance split lantern restrictors with a harder non-galling coated inside diameter. The upgraded materials and design reduces gland water consumption.
The actual consumption of water also needs to be factored in. In remote areas, the supply of suitable gland water may be very costly due to the need for sinking bores and the long-distance pipeline pumping. Even when more readily available from mains supply, water can be relatively expensive to purchase in large quantities.
At a Latin American iron ore mine, the operator wanted to increase its energy savings in all their processes, focusing particularly on reducing the consumption of process water. It had Warman® MCR® 250 pumps installed in one of its mills to transport slurry from the mill discharge to the hydrocyclone cluster. The installed Warman® pump seals were wet seals with an average life of 3,200 hours.
Weir Minerals suggested trialling a Warman® mechanical seal on the Warman® MCR® 250 pump; the mechanical seal requires a small amount of water to be injected to assist with lubrication and cooling of surfaces.
At the conclusion of the successful trial period, the customer's water consumption costs went from US$26,963 with the wet seal to US$9,461 with the mechanical seal. Inventory costs
Inventory costs are something of balancing act. On the one hand, holding stock ties up capital that could otherwise be spent on revenue-earning activity; on the other, having stock on hand ensures spare parts are available immediately in the case of an unplanned shutdown or to ensure supply in the case of extended lead-times.
Weir Minerals' team of slurry pump experts works closely with its customers to understand their equipment's wear performance, maintenance schedules and inventory requirements. It has a global network of service centres in all major mining regions to support its customers with all their inventory needs.
For instance, Capstone Pinto Valley Copper Mine, USA, has two spare Warman® MCR® pumps; when a pump needs to be repaired it's pulled out of the line and shipped to the Tuscon Service Centre where Weir Minerals service technicians pull it apart, laser scan it to determine where the wear locations are, provide a wear report and recommendations and put it back together according to OEM specifications. Weir Minerals then ships the pump back to Pinto Valley – they do all this within five to seven days. This reduces their downtime, saves them money by not having to have a full inventory of spares and frees up their maintenance staff to carry out work on other equipment.
Indeed, reducing spare parts consumption can significantly lower the TOC. At an Australian gold mine, for instance, Weir Minerals configured all their Warman® MCR® 550 pumps with composite throatbushes comprising half alloy and half rubber to address the localised recirculation wear around the eye of the throatbush. This resulted in a significant increase in the length of the Warman® MCR® pump life cycle.
This increase has reduced shutdowns from four per year down to a maximum of two per year depending on tonnage throughput. This, in turn, has allowed for a modified maintenance plan to be executed, and contributed to a reduction in spare parts consumption which has saved the customer over AU$2.1 million whilst increasing plant operation time.
Availability costs
If pump unavailability directly causes plant downtime or reduced recoveries then this cost needs to be accounted for. The Warman® MCR® pump is designed for the most aggressive duties and provides excellent wear life and reliability to minimise downtime.
Associated overheads
Most mining operations have considerable overhead costs that may include, but are not limited to: accommodation, sanitary and dining facilities; administration; HR, as well as the associated costs that are often required to meet OH&S, environmental and other statutory obligations. While these may not be directly tied to pump performance, associated costs can be factored in as a percentage of direct labour or as an addition to the labour rate.