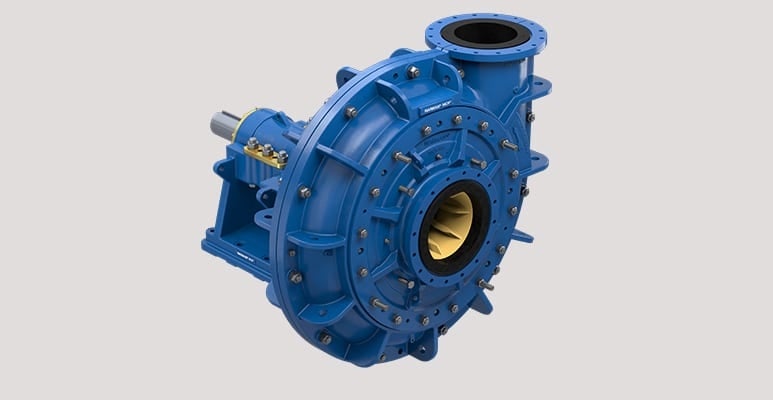 The Warman® MCR® range is the culmination of more than 80 years of experience and development; it's a pump that, unlike its predecessors, has been specifically designed exclusively for mill circuit applications.
Lined and unlined pumps
Broadly speaking, mill circuit pumps can be divided into two categories: lined and unlined pumps.
Traditionally, operators have tended to employ rubber lined pumps in ball mill applications, while unlined hard metal pumps have been utilised for AG and SAG mill applications. The rationale was that rubber liners provided superior wear life in applications with relatively small particles, but would not stand up to the larger particles typically found in AG and SAG mill applications. Large unlined metal pumps were, therefore, commonly used in these applications, allowing very thick metal sections to be cast into the casing without the constraint of a surrounding casing.
However, dramatic advances in elastomer technology and pump design have now enabled elastomer-lined pumps to move into the previously all-metal domain of SAG mill circuit pumping. The very thick and specially formulated elastomers featured in the Warman® MCR® range consistently outlast metal-lined pumps in most SAG mill duties, increasingly becoming standard for this service.
Unlined metal pumps still have their niche, but they're becoming rarer as elastomer technology continues to advance to withstand cut damage and provide superior erosion resistance to ever increasing particle sizes.
Combatting erosion
In mill circuit slurry pumping applications, erosion is the dominant mode of wear. Essentially, it involves the loss of surface material by the action of particles entrained in fluid. Kinetic energy is transferred to the particle and, then, from the particle to the surface, resulting in high contact stress.
There are three basic types of erosion: sliding bed, random impact and directional impact.
Moreover, wear on pump impellers, volutes and side liners is caused by quite different mechanisms.
Pump impellers are subjected to a combination of direct impingement (on the leading edge of the vane and at the base of the vane where it joins the back shroud), sliding-bed wear and low-angle impingement (along the vanes and further inside the passage between the shrouds). In order to combat this, the Warman® MCR® pump features a large-diameter, low-speed, high-efficiency impeller manufactured from a range of abrasion-resistant alloys to increase wear life.
The Warman® MCR® pump also has patented shrouds that extend past the periphery of the impeller and expelling vanes; they have been designed to provide improved flow and reduced wear at the expelling vane tips.
Meanwhile, volutes are subjected to direct impingement on the cutwater and sliding bed erosion around the periphery. Weir Minerals offers various rubber compounds, including R55® which is used in most of its moulded applications, and a hybrid Warman® MCR-M® option whereby a metal-lined volute is interchangeable with a rubber-lined volute. This enables optimum material selection for each specific application, ensuring the wear characteristics for each component is balanced, which optimises wear life.
Side liners are mainly subjected to sliding-bed wear and some low-angle impingement. The Warman® MCR® pump features a high-resilience rubber wear liner that enables the effective handling of coarse particles and ball scats, while its lightweight design relative to other pumps in its category facilitates safer handling. Significantly, the internal liners can be fully worn before replacement, as the split outer casing provides structural integrity and high operating pressure capability and safety.
Warman® MCR® 650 pump doubles wear life
An open pit gold mine in Ontario, Canada, had two Warman® MCR® 650 pumps installed in its primary cyclone feed duty. In an effort to improve wear life, the customer arranged a trial against a competitor's unlined pump with a ceramic throatbush and high chrome impeller.
The Warman® MCR® 650 pump far exceeded the competitor's pump trial results, more than doubling the impeller and liner wear life. Change-out time was also reduced by 15 hours and the estimated savings to total ownership cost (TOC) between the competitor's pump and the Warman ® MCR® 650 pump was more than US$300,000 per annum.