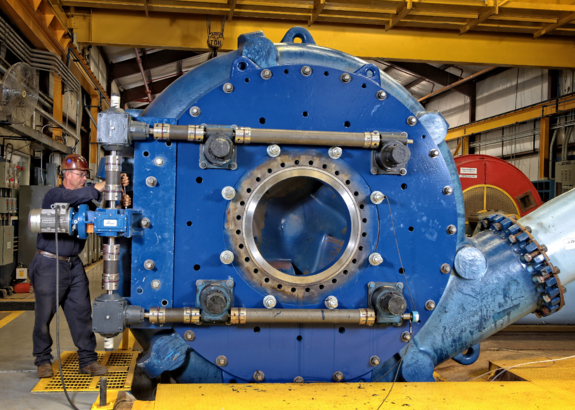 Revolutionising mining processes is what KSB does best. Its R&D department is always innovating customer-centric solutions to improve efficiency.
Imagine you can reduce the time it takes to perform pump maintenance tasks, from three or four hours to just a few minutes. Would you be interested? Time savings like this are what KSB customers enjoy when they install GIW® MDX pumps with RAMSL technology in their mill circuits.
Hard-wearing construction
The MDX pumps were already market leaders, with their robust wear components (shells, impellers and liners) made from the company's proprietary material technology known as Endurasite™, a white-iron alloy that can potentially double a component's wear life as compared with other materials.
Their R&D department then developed a further extremely hard-wearing material called Enduraclad™. This, when bonded to the wear surfaces of pump components, can make it even harder with longer wear resistance. Introduced to the world of mining in 2018, Enduraclad™ has proven successful in even the harshest applications.
Crews at Chilean mining giant Minera Escondida, which had eight MDX 750's installed at the time, were spending upwards of four hours per pump, per week – or 32 hours a week – for maintenance. The company approached KSB for an automated solution to adjust the pumps' nose gaps (the distance between the suction liner and the impeller) more efficiently.
KSB's R&D department and field engineers worked in tandem with the customer to test likely solutions in the field, and after extensive laboratory and field trials, the GIW® RAMSL (Remotely Adjusted Mechanical Suction Liner) technology was born.
The customer asked that remote Human-Machine Interface (HMI) devices be able to manage the controls, to make the adjustments quick and safe, from a distance, thereby increasing efficiency and protection of personnel. Another benefit is that maintenance schedules can be tailored to the wear performance of each pump, rather than being time-based.
The RAMSL system
The RAMSL technology does exactly what it says. One operator can adjust the suction liner in a pump remotely, with a precision of 0.25mm, at the touch of a button on its control panel.
They look at the readings on the panel and make any adjustments, but only if one is necessary. The RAMSL allows for this closer and more detailed understanding of the condition and performance of the pumps without the cost-prohibitive demands of large crews or unplanned shutdowns.
Leo Perry, Lead Product Manager for GIW® Slurry Pumps, has been involved in the evolution of the RAMSL system says, "periodic adjustments to MDX cyclone feed lines historically have been made using hand tools. RAMSL allows for the adjustments to be made and monitored remotely, at the touch of a button".
What is even better is that this manual user interface is digitally enabled. Thus, it can be used as an output data source to track various measurements that are recorded for the pump, like taking real-time vibration readings and precise suction liner movements.
This interface further enables mine operators to calibrate the maintenance schedule for optimal life and performance, and can even share this information with KSB, who can use that information to offer recommendations regarding maintenance and additional performance improvements.
It is well understood that to operate a mill circuit at maximum efficiency, pumps transporting aggressive slurries need to be maintained every week. A part of this maintenance is the precise adjustment of the internal clearance between the pump impeller nose and suction liner.
MDX pumps with RAMSL vastly improve the accuracy and time it takes to perform this action. With the long-wearing components and the ease of maintenance, the MDX is proven to have longer run times than competitor pumps with minimal shutdowns.
Entering Central and South American markets
The success of the MDX pump in Chile has made it a popular choice for miners around the world. Multiple installations already exist across North and South America, South Africa, Australia and Indonesia. These pumps, made from rugged and ultra-tough wear materials, are the most reliable on the market, and the ability to upgrade the pumps with the RAMSL technology, a state-of-the-art digitally-enabled suction liner adjustment system, set them apart from all competitors.
In summary, with increased output, reduced downtime, easier maintenance, long wear life and higher return on investment (ROI), what is not to like about RAMSL-enabled MDX pumps?
Further information:
For more details, please visit https://www.ksb.com/en-us