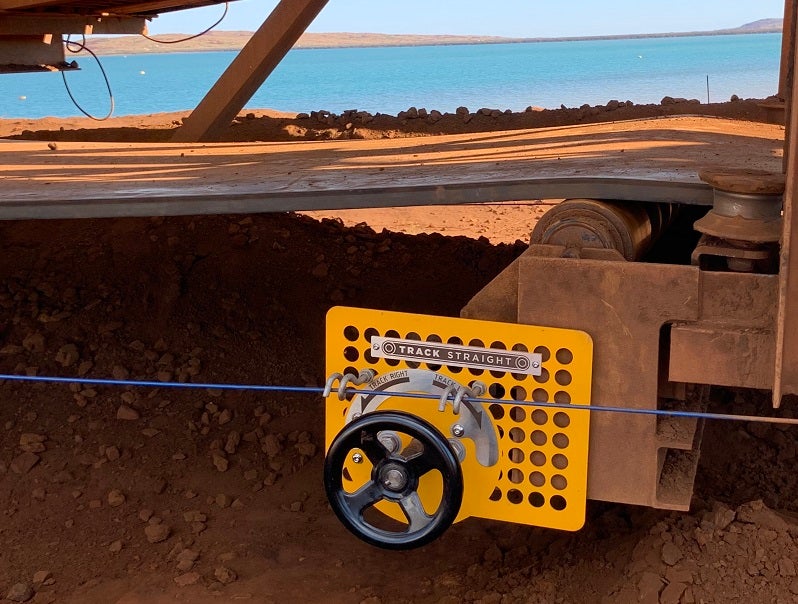 The mining industry is ever-evolving, with innovators continually finding new ways to increase safety and productivity across the entire network. Sometimes these new developments are major technological advances or the introduction of newer machinery, but often, seemingly simple solutions can have a large impact, making the industry safer and more productive.
Australian belt correction system manufacturer Track Straight has taken the guesswork out of conveyor alignment and spoke to Mining Technology about how they're saving operators money.
How it works
The company's manual conveyor belt correction systems allow operators to adjust the tracking frame via a rotating hand wheel while the conveyor is stilling running. The operator is kept safe as the system is designed to prevent force from being applied from the tracking frame back through the hand wheel. Overloading is prevented using a torque limiting device, and a proximity switch monitors and logs adjustments.
According to Track Straight product designer Russell Norman, tying up expensive tracking frames with rope has been an issue at every site that he has worked at in in the fixed plant mining industry. This is a process that should be done in isolation, and any amount of downtime can be costly for a mining operation.
"The key selling point for our customers is the safety aspect, our products remove the possibility of workers breaching isolation policies."
"The key selling point for our customers is the safety aspect," Norman explains. "[Our products] remove the possibility of workers breaching isolation policies, such as tying up a tracking frame while the conveyor is still running with ropes, straps or chains. Our solution eliminates live work risk and over time will help to change safety behaviours for the better. The added benefit is not having to shut down because of those events, which equals a monetary saving – achieved by keeping the conveyor running. That all adds up to a big saving."
The company has also developed an automatic tool, which is adapted to fit pre-existing tracking frames. This option enables remote or automatic adjustments using belt drift sensors that detect the belt's alignment positions and determines any necessary adjustments to the tracking frame.
"We've got patents on both designs: the automatic and the manual units," says Norman. "There's not really anything else similar on the market that will do the same thing in the manner that these systems can."
The Track Straight conveyor belt correction and alignment system is relatively new to the market, and despite the issues associated with traditional methods being widespread, they are often overlooked.
Norman predicts that with a solution available that can save customers money while keeping workers safe, it won't be long before every mine has made the switch.
"Times change, so what was accepted previously is no longer," Norman explains. "That's always going to happen in an old industry. Small advancement adds up in the mining technologies game, but our product has succeeded in all our trials and has only been around for 12 months."
The conveyor belt system can be retrofitted to existing track frames, so infrastructural changes are not necessary. With a continued focus on safety culture and increased demand for better productivity, Track Straight's aim is to remove the requirement for unsafe behaviour used to correct misalignment on conveyor tracking frames. This is just one more step towards a higher-yielding and safer mining industry.