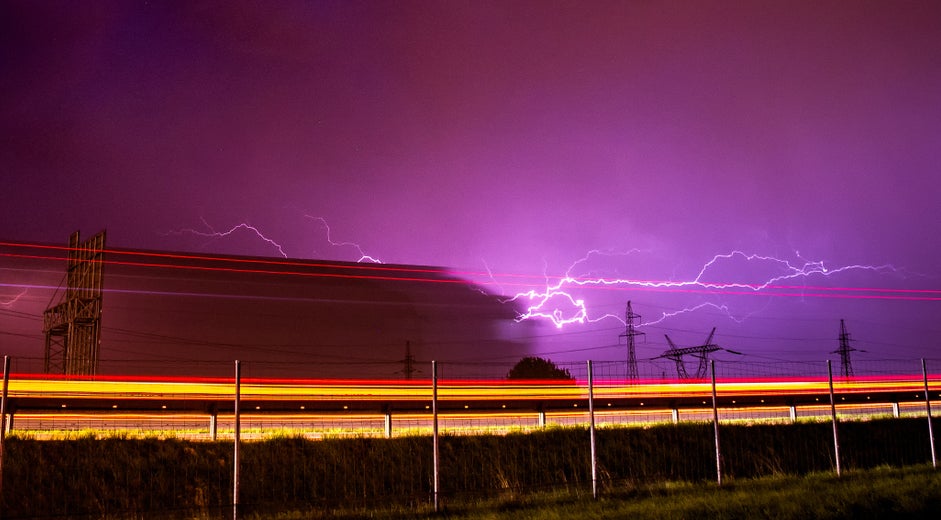 Lightning strikes at mining sites can be catastrophic not only to machinery and electrical equipment, but more importantly to personnel working in the field. Whether striking vehicles, blast areas or power lines, lightning protection systems and safety procedures must be in place to keep your workers safe.
One such example of the dangers of lightning strikes at mines took place at a Queensland mine in December 2020, prompting Resources Safety & Health Queensland (RSHQ) to urge mines to reassess their safety procedures.
When a Queensland surface mine halted production due to wet weather, mobile mining equipment was driven to a purpose-built in-field parking area. Nightshift staff were situated in crib huts adjacent to the parking area, where they waited until the weather eased.
One worker witnessed lightning strike a truck, which was shortly followed by a position five tyre on the truck exploding. This resulted in fragments shattering windows in the crib huts, as well as dislodging air conditioners, lights, and water tanks from their fixtures.
During this incident, two coal mine workers suffered injuries that required first aid treatment, despite these huts being considered a safe area during severe weather and lightning. So, what went wrong?
This is not the first time something like that has happened. In 2017, a tyre explosion at a different Queensland site claimed a worker's life.
It has been recommended that mines review their severe weather or lightning Triggered Action Response Plan (TARPS) and that they assess the most appropriate methods of protecting coal mine workers from the consequences of tyre explosions, as well as reassess the safety of mobile areas at park-up locations. More care must be taken where vehicles are parked during lightning events.
In a 2018 safety bulletin regarding lightning strikes on rubber-tyred vehicles, RSHQ stated that during lightning storms, heavy, rubber-tyred vehicles should not be recommended as a place of safety. This is because excess heat to tyres can initiate pyrolysis, which can cause a build-up of flammable gases and pressure within the tyre that may lead to rupture or explosion.
While there is no single piece of equipment that can prevent the effects of lightning, there are protection systems that can redirect or minimise damage to protect personnel and sensitive electrical equipment. These systems are not intended as a replacement for safety procedures, but rather a way of enhancing safety and mitigating risk as much as possible- designated protected areas for workers and vehicles are still essential.
Electrical safety experts nVent ERICO provides a range of lightning protection equipment, including earthing and bonding, lightning, and surge protection solutions, as well as a six-point plan that provides a comprehensive checklist covering all damage mechanisms.
nVent ERICO provides protection for all areas of a mining site, including open areas such as parking and driver transfer areas for large mining vehicles. Its advanced air terminals enable a large protection radius and provides reliable lightning capture and control. In the whitepaper below, nVent outlines its System 3000, comprising the Dynasphere air terminal, Ericore downconductor, a mounting structure and purpose-designed low-impedance earthing system and explains how it has been used to protect open areas.
For more information about nVent's portfolio of brands, or to find out how their solutions can support your mining or industrial project, visit their website, or download the whitepaper below.