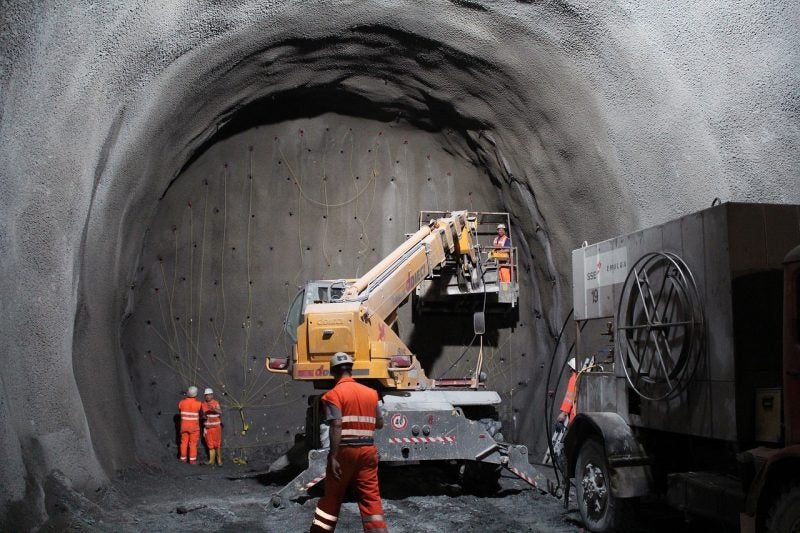 Noxious fumes can be released unexpectedly throughout a tunnelling system with no warning, which is why workers must ensure they correctly prepare for potentially harmful events, such as a possible gas leak or decline in oxygen level.
It takes just 30 seconds of oxygen withdrawal for an individual to lose consciousness and at atmospheric levels as low as 5-15% methane becomes highly combustible and even explosive. Furthermore, carbon monoxide levels as low as 0.1% can be fatal after only a few minutes of exposure.
Atmospheric monitoring in tunnels and mine systems is vital for the welfare of miners and legal compliance of mining companies. Therefore, a 'safety first' attitude is imperative.
Hand-held devices for atmospheric monitoring in tunnels
The ventilation of a tunnel network must be monitored and managed recurrently. A device such as an anemometer can measure the amount of incoming and outgoing air within the tunnel.
A small, portable device, anemometers use wind velocity to ensure there is adequate airflow to avoid the build-up of harmful gases. The device not only guarantees worker safety but also maximises the efficiency of the tunnel, offering a full summary of the ventilation system.
Companies such as Carroll Technologies Group promote a range of anemometer devices for atmospheric monitoring in tunnels, providing both fast ad-hoc checks and continuous monitoring of airspaces. Carroll's ST-1000 Vane Anemometer, for example, is a portable model ideal for monitoring air quality between tunnel networks and can be carried by hand, requiring minimal specialised understanding to control.
The Mine Safety Appliances (MSA) Altair 4X Detector is another easily portable device offered by Carroll. The equipment can be carried habitually by workers, notifying its user of the existence of toxins, combustibles and anaerobic environments within seconds of exposure.
The device has a patented MotionAlert technology, which activates an alert upon the detection of no movement from an active user after 30 seconds, in case of injury or loss of consciousness. Users can also activate the InstantAlert alarm by hand, using the detector's alarm system to notify others of risks within the vicinity.
Diesel-sensitive atmospheric monitoring devices
Diesel engines are found commonly throughout tunnelling sites, so it is integral that employees are aware of the levels of diesel in surrounding work areas.
Numerous systems are available through Carroll to test diesel exposure. The Flir Airtec DPM, for example, is a portable, lightweight device that can be harnessed to a worker's belt, mounted on the wall of a high-risk area or fastened to a vehicle. The device is fitted with an LCD screen, which displays instantaneous elemental carbon levels.
The Airtec device lets users modify their positioning, vehicle use or ventilation systems if diesel levels within the surrounding area become too high. It also permits miners to observe the tunnelling site for ongoing overexposure.
Carroll Technologies Group, together with its operating subsidiaries, Delta Electric Inc and Carroll Engineering Co, facilitate the needs of tunnelling and mining companies with a chain of 13 support offices and distribution centres across nine different states.
The company has expanded to become one of the leading electronic services groups in the US, providing more than 800 mines with safety monitoring systems, employee and equipment tracking systems, advanced technology communications and a vast array of other safety equipment.