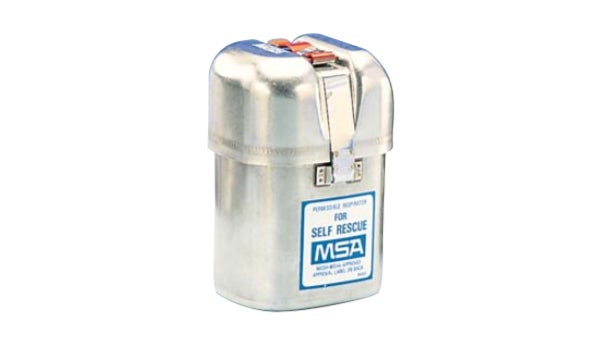 There are numerous hazards that workers face in underground mines and tunnels, and while the upmost efforts are made to keep the environment safe, there is always the risk of toxic gases or depleted oxygen making the atmosphere volatile.
There are various devices available on the market to ensure the safety of miners in irrespirable atmospheres, and as experts in mining safety, Carroll Technologies is perfectly positioned to suggest and supply the ideal self-contained breathing apparatus for any given application.
Self-rescuer or self-contained rescue device (SCSR) are an essential piece of equipment to be prepared for an emergency, such as when a fire or explosion compromises air breathability and leaves workers without oxygen for prolonged periods of time. As portable devices, they provide personal respiratory protection by blocking air flow from the nose and allowing the user to breathe through a mouthpiece, which oxidises air pollutants and converts them into a breathable format.
Carroll Technologies provides a range of self-contained breathing apparatus for mines and tunnels, including the W65 Self-Rescuer Respirator from Mine Safety Appliances (MSA), which is available through their online mining store. This light-weight device protects against carbon monoxide poisoning. Encased inside a rugged stainless steel case, the W65 features a positive hermetic seal and offers an in-service life of ten years.
Carroll Technologies' also supplies SCSRs from Ocenco; the M-20 and the EBA 6.5. The M-20 is the world's smallest SCSR and uses compressed oxygen to provide respiratory protection for up to 32 minutes. The user can quickly check the oxygen supply through the clear case. The EBA 6.5 is designed to be stored in bulk in a refuge centre of a mine, which workers can make their way to in the event of a crisis. It uses compressed oxygen rather than an oxidisation process, making it more comfortable to wear and with a longer window of active use, and unlike other devices it can be refurbished and upgraded. For more information or to purchase Ocenco self-contained breathing apparatus call 606-573-1000 or send an enquiry here.
Trusted by more than 800 facilities across the US for more than 40 years, Carroll Technologies' 24/7 MinerCare service is always on hand to provide support and guidance in emergency situations, including around the clock technical support, an extensive spare parts inventory, and factory-authorized repair.