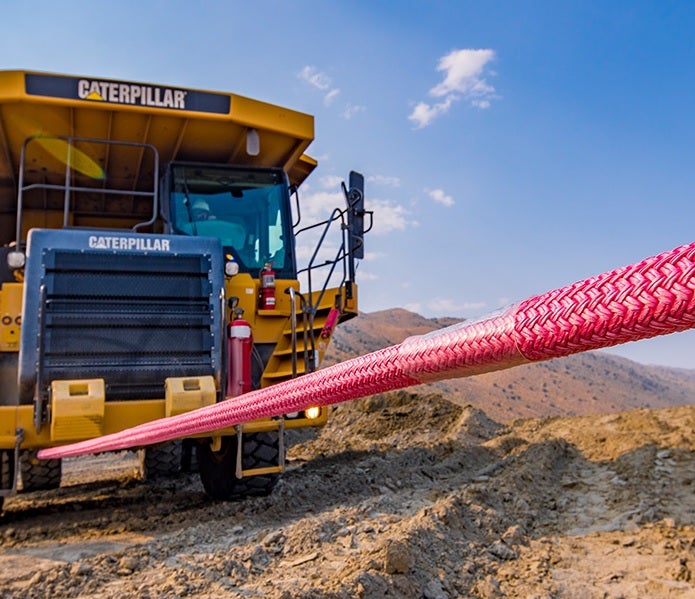 For more than 140 years, Samson have been developing innovative synthetic rope solutions and providing industry-leading service. Its expertly engineered ropes are manufactured from high-performance fibres, ideal for replacing wire rope.
"The Samson Rope product has been around for a long time, but has really taken off due to the safety issues of using steel cable and chains. This is a product that is equally as strong, if not stronger, in the same application," explains Allen Haywood, president of Carroll Technologies.
"When a chain breaks or a cable breaks, it has very serious consequences to anyone near. It can take legs off, it can cause head injuries. It can kill people."
Carroll Technologies is a supplier of mining safety equipment, including Samson Rope products.  According to Haywood: "Samson has built a great relationship and worked very well with us. They stand out above and beyond any other nylon rope type manufacturers. They're the oldest company with the best reputation and the highest quality product."
From pre-sale to installation and post-delivery services, Samson is dedicated to maximizing customer investment. To this day, Samson continues to reinvent, refine and optimize their products.
A popular Samson product used in the mining industry is the Panther Recovery Sling. Panther is a high-strength, lightweight low-stretch recovery tow sling. It is designed for maximum safety and reliability for vehicle recovery and mining applications.
The 12-strand multiple grommet rope is manufactured from 100% Dyneema fiber with chafe protection for superior strength and abrasion resistance. It is considerably lighter than Kevlar, wire and chain, requiring less man power and reducing the risk of safety hazards.
Samson products supplied by Carroll Technologies include:
Panther recovery sling 55MT (8.04037E+13)
Panther recovery sling (8.04065E+13)
Panther recovery sling 415 MT (8.04109E+13)
Panther recovery sling 115 metric TON (8.04053E+13)
For more information about Samson's high-strength ropes or to get a quote for your mining project, call 606-573-1000 or send an enquiry here.