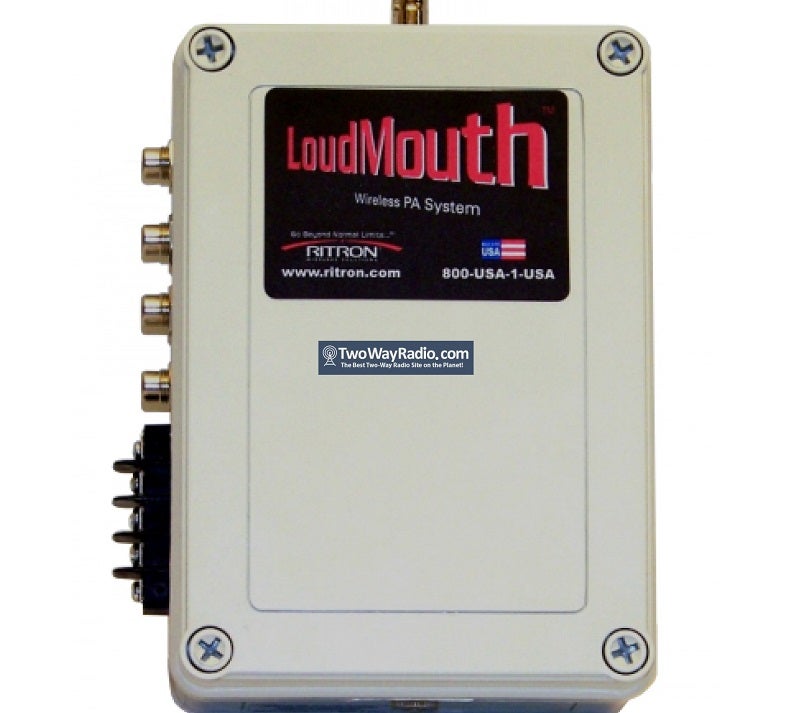 US-based Ritron designs and manufactures industrial-grade wireless communication equipment. The LoudMouth LM V150 is a wireless PA system, significantly reducing installation costs. It enables communication from portable two-way radio, base station or mobile radio to a PA speaker up to two miles away. The LM-V150 is industrial-grade and designed for industry sites, such as mining and tunnelling projects, and enables plant-wide communication when hard-wired PA systems are not feasible or too expensive.
The Ritron Loudmouth LM V150 wireless radio receiver adaptor's key features include:
No trenching required (no extensive wiring and can be installed virtually anywhere)
Easy added to existing communication systems
95dB SPL at 50ft
PC and field-programmable
Configurable for multiple zones
110VAC operation
Rechargeable back-up battery
Riton products are available through Carroll Technologies' online mining store, including the TS-142-GW remote control radio switch and the RQT-152 VHF quick talk transmitter.
The Ritron TS-142-GW remote control radio switch features a built-in VHF or UHF RF telemetry radio and dual-relay DTMF decoder, while the RQT-152 VHF quick talk transmitter enables wireless alerting over radio systems.
Drawing on more than 30 years of experience, Carroll Technologies endorses Ritron products as rugged and reliable communication devices that are ideal for mining and tunnelling projects. Ritron two-way radios, intercoms and repeaters have also been used across a variety of other industries, including construction, transportation and railroad.
Carrol Technologies has provided communication, monitoring and safety solutions to more than 800 mines across the US. Customers who purchase wireless communication solutions through Carroll Technologies gain access to MinerCare 24/7, which includes around the clock technical support, rapid response to mining emergencies, factory-authorized repair and an extensive stock of spare parts. With a distribution network of more than 70 trusted manufacturers, Carroll Technologies can meet your wireless communication needs.
For more information about Ritron or wireless communication equipment, call Carroll on 606-573-1000 or send an enquiry here.