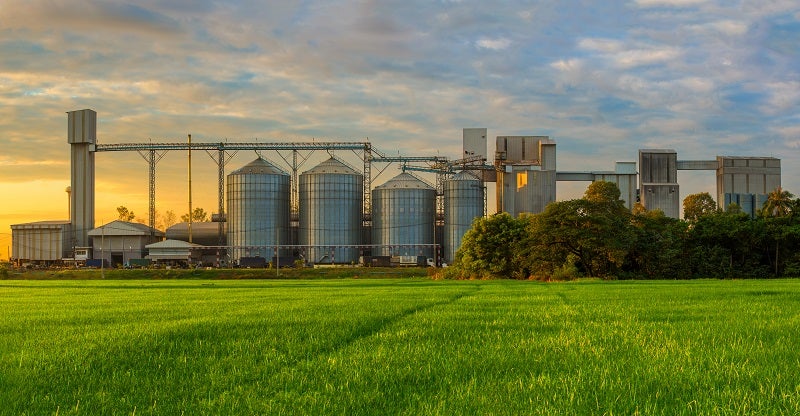 Silos are used for storing bulk materials, and accurate level measurement is essential to maintain efficient operations and ensure that order quotas are met.
Non-contact sensors calculate the level of materials in the silo by transmitting and detecting radar frequencies that bounce off the surface of the material. This information is transmitted to operators who can then monitor storage levels.
To ensure accurate measurement of the silo contents, numerous factors must be addressed, including bulk densities, abrasive properties, dust generation and explosion protection.
VEGAPULS 69 radar sensor level measurement in silos
The VEGAPULS 69 is a non-contact sensor designed for continuous measurement of bulk solids through all process stages and is ideal for level measurement in high silos due to its 120m reach. Accurate measurement is ensured owing to its exceptional signal focussing.
The VEGAPULS 69 radar sensor has a frequency of 80GHz, which can be used for any bulk solid material stored in silos.
Material levels are constantly monitored in adverse environments to prevent overflow or levels dropping too low.
VEGAWAVE 61 level switch and VEGAVIB 61
The VEGAWAVE 61 is a robust level switch, which reliably detects minimum and maximum silo levels.
Its tuning fork is designed to work with abrasive fine-grained bulk solids, and its functioning is not effected by the build-up of bulk materials. The switching point can be placed 80m away from the installation point, or adjusted further using the VEGAWAVE 62 and its extension cable.
The VEGAVIB 61 is a vibrating level switch is ideal for coarse-grained bulk solids. It is low-maintenance due to its smooth vibrating rob, which prevents product becoming jammed.
VEGAFLEX 82
The VEGAFLEX 82 is a cable/rod sensor. It is suitable for use where there is a high chance of dust generation, buildup or condensation. The VEGAFLEX 82 level sensor measures both light and heavy-weight bulk solids.
VEGA process instrumentation
VEGA provides a wide range of level measurement equipment for the mining industry, ensuring efficient operations and preventing bottlenecks. Process instrumentation is used to monitor product levels, density, pressure and flow across all mining applications.