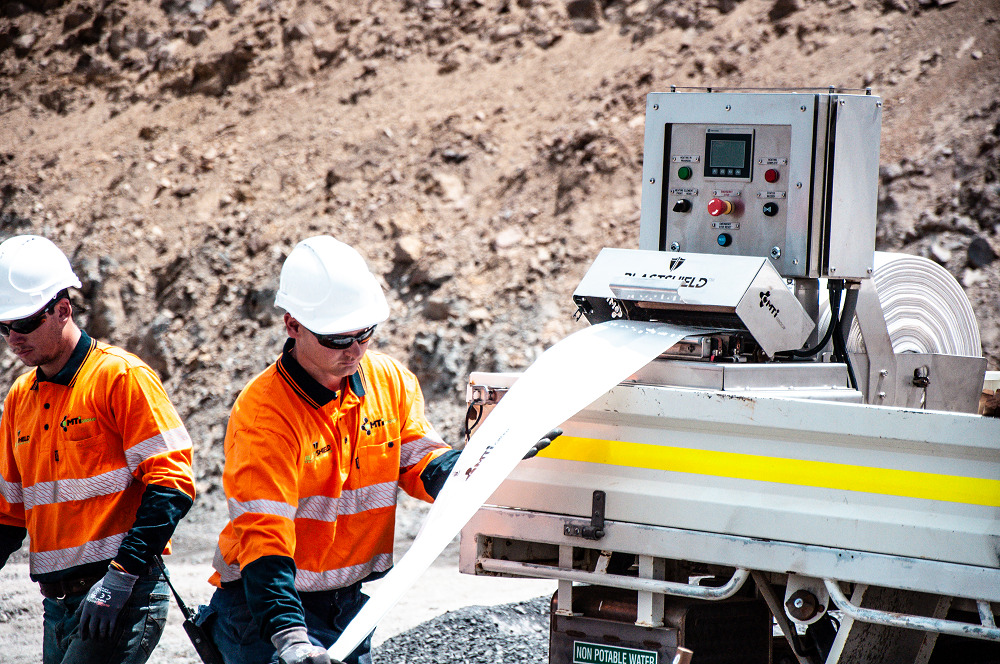 Fume events – characterised by an orange, noxious gas cloud – had long been considered an occupational hazard in the drill and blast process. More recently, however, regulators have been cracking down on dangerous fume events and strictly enforcing their prevention.
BLASTSHIELD™, a new product from MTi Group, is a viable, cost-effective solution that helps operators to overcome historical challenges with hole lining, improve fume management and even increase productivity. As if that wasn't all, BLASTSHIELD™'s innovative system also helps prevent damaging nitrate leaching, which occurs when nitrate leaves the soil in drainage water.
Fume or NOx are post-blast gases containing oxides of nitrogen, primarily NO2, that can form as an undesired result of explosives reacting with water. Appearing as a distinct orange cloud known as NO or NOx – fume rises into the air presenting an immediate risk to the health of workers. When blown by the wind beyond the boundaries of a mine, it can threaten local residents in the surrounding area too. The gas, when inhaled, turns into nitric acid in a person's lungs and can have fatal consequences. NOx can also occur from augured high-priced water-resistant explosives if installed incorrectly or slept for too long.
"NOx is created when ammonium nitrate does not completely combust. It can be caused by many factors, including a lack of confinement during the blast process, moisture contamination (wet ground) or failure to meet critical diameter requirements for the blasting product (AN enters small cracks/voids). Soft rock types, for example, often don't provide enough confinement for heavy emulsion blends.
ANFO [a mixture of ammonium nitrate and fuel oil] is a much better explosive in soft rock types but it is hygroscopic, which means if you add a cup of ammonium nitrate, it will gain weight by pulling moisture out of the atmosphere. That can cause fume. Every time there's a fume cloud, that means you've had ammonium nitrate-based products that have failed to detonate correctly," says Jeff Anderson, Commercial Director of MTi Group.
The health, environmental and financial cost of fumes
"Some of those events can be quite dramatic. You don't want to breathe in fume – in high concentrations, it can be deadly to every living thing in its path," says Anderson.
"Fume events are a big concern, especially whenever that fume cloud travels towards people on the mine site, or to people outside of the mine," says Sacha Diaj, President of MTi Group US.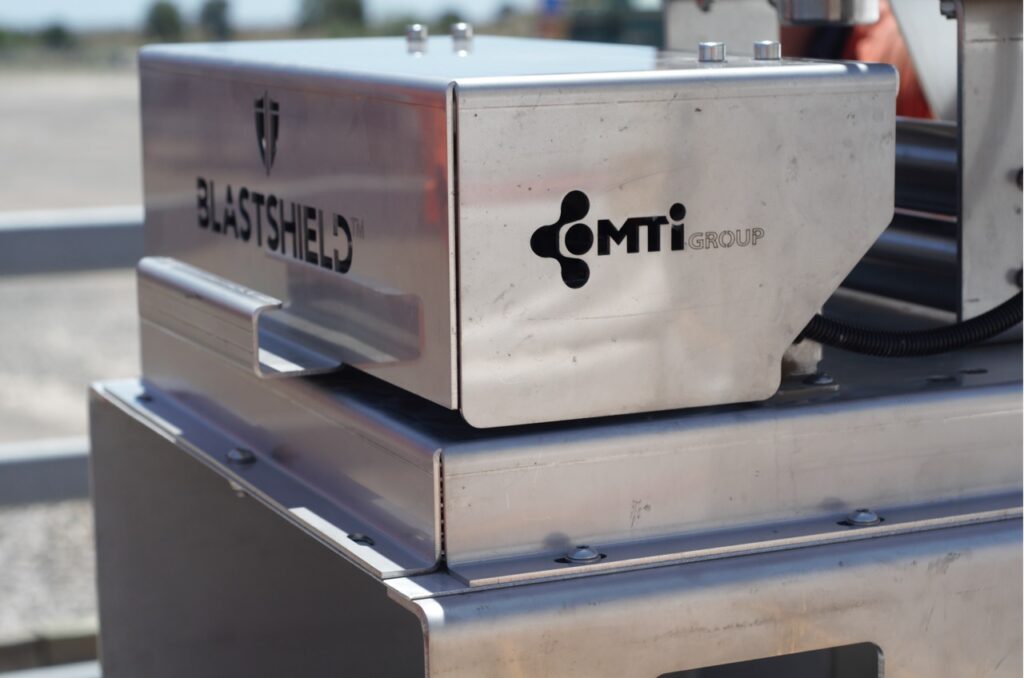 It also costs operators money. "An analogy of fume clouds is that they are like little orange dollar signs if the cloud is a dark brown or purple colour that's a lot of dollar signs. The fume cloud is a bloody big unnecessary waste of money. It affects the triple bottom line: environmental, health and finance – fume events, are across on every one of those levels," says Anderson.
Regulators, unsurprisingly, are increasingly cracking down on fume events and rolling out legislation that can affect a mine's license to operate.
"Here in the US, mines are monitored by a state agency and also at the federal level by the Department of Environmental Protection (DEP). They can both issue notices of violation, assess fines and even close permits down after persistent complaints" says Diaj.
As a consequence, many mines have used water-resistant explosives as their default solution for blasting in wet conditions. This, however, does not negate the risk entirely. Research shows that long 'sleep times' – the time between when explosives have been loaded into a hole and when it is detonated – can affect the explosives' water resistance, rendering it susceptible to the same conditions as a non-water-resistant explosive. Water-resistant explosives also do not resolve the ability of soft – medium rock types to provide suitable confinement. Simply put, fume events can and do still occur even when wet explosives are used.
"The only way to stop water from penetrating into explosives is by using a protective membrane liner between the explosives and the saturated ground," says Diaj.
Enabling better blasting
What a good lining solution does is provide a clear, uncontaminated column for the explosives. It's a mechanical barrier for hygroscopic blasting agents," says Anderson, with the added benefit that it "Allows you to use a lower cost blasting product: ANFO, which is arguably a better blasting agent in many types of rock."
Although hole liners have been around for years, traditional liners – mostly polyethylene layflat liners – have been "very heavy, they stretch and tear, making them cumbersome to load in the blast hole," says Diaj.
Enter BLASTSHIELD™ an engineered liner from MTi Group, which has been specifically designed to eliminate those issues. It's a lighter, ripstop composite that is easy to load, it doesn't stretch, and it doesn't leak any water. "The ground-breaking composite material called BLASTSHIELD™ is unique; it's a different product to what other companies have come out with," says Diaj. "Liners have been around for decades, and lot of operations had bad experiences with liners. We had to overcome that slightly negative connotation toward liners by explaining how BLASTSHIELD™ is made and showing videos of the loading process. Once clients try it, they change their opinion, because of its simplicity. And the mines can save money at the same time."
BLASTSHIELD™, says Anderson, enables clients to have less shutdowns for blasting per week, "because they're able to bank up blasts without fear of fume, it's giving the mine more productive time. It also means the blast is less likely to be delayed because of wind conditions. We're talking about enormous amounts of money saved. When it's coupled to on-bench reload, BLASTSHIELD™ allows you to dramatically increase the loaded bulk cubic metres each day with the same overhead costs. This is achieved by a substantial reduction in explosive truck reload time. "
Reducing nitrate leaching
BLASTSHIELD™ also has the ability to reduce the leaching of nitrates from explosives into the ground, an increasingly hot-button issue in drill and blast. "We need to ensure that mining operations disrupt the local environment as little as possible – this is critical," says Anderson. "Nitrates leaching into groundwater systems and into waterways can disrupt the balance of those sometimes delicate ecosystems so, it's really important that operations have as minimal long-term impact as they possibly can. Reducing nitrate leaching like BLASTSHIELD™ does is one way of minimising the environmental disruption from mining."
Diaj concurs. "Nitrate leaching is becoming a real buzzword now in mines. The most effective control of nitrate leaching is the use of an impermeable membrane and BLASTSHIELD™ can efficiently provide a heat-sealed watertight ripstop liner in the ground to fully protect the environment from in situ leaching."
Get ahead of the impending protocol
While not as stringently regulated, there continues to be increased scrutiny on mines maintaining good nitrate management. It is therefore important – if not yet essential – to have a good nitrate leaching protocol in place. "Nitrates, unlike heavy metals or other contaminants, are not often considered in the water management with respect to regulation in most jurisdictions. Currently, it's more a demonstration of good governance and supporting the overall license to operate, rather than an immediate compliance requirement. It's just good practice and good behaviour," says Diaj. 
"However, as the impact of explosive leaching is better and water management is becoming even more critical for mine operators, we see that a regulatory focus is on its way."
A good example of this, says Diaj, where there are increased regularity requirements on nitrate leaching, is in British Columbia, Canada. "We've seen the first legislation come through. We might expect to see this become widespread everywhere at some stage. For mines to start mitigating that now is a sound approach – before that regulation comes in, get ahead of it. That gives you the opportunity to put in place a sensible, operationally practical solution."
As mines become increasingly aware of the environmental and social impact of their operations – understanding that responsible mining is an imperative, not an option – innovative solutions such as BLASTSHIELD™ that protect the environment from fume events and nitrate leaching, are more than ever being perceived as a vital tool. "Because of its experience, global reach and partnership approach, MTi Group is in a unique position to lead the market in both fume events, and nitrate mitigation. We're constantly developing more ways and practices within those two aspects to make it a better solution and more viable and beneficial for the mines," says Diaj.
"There's an increasing appetite for the environmental and cost-saving benefits that BLASTSHIELD™ brings. And there is an application for BLASTSHIELD™ on almost every mine site with good environmental management," says Anderson.
"The technology in the system is second to none; it's the most advanced technology from the hybrid membrane through to the ultra-safe installation process that we've developed over the past decade," says Anderson. "It is why we're in a great position to lead the way – because we can be trusted, because our system will deliver everytime."