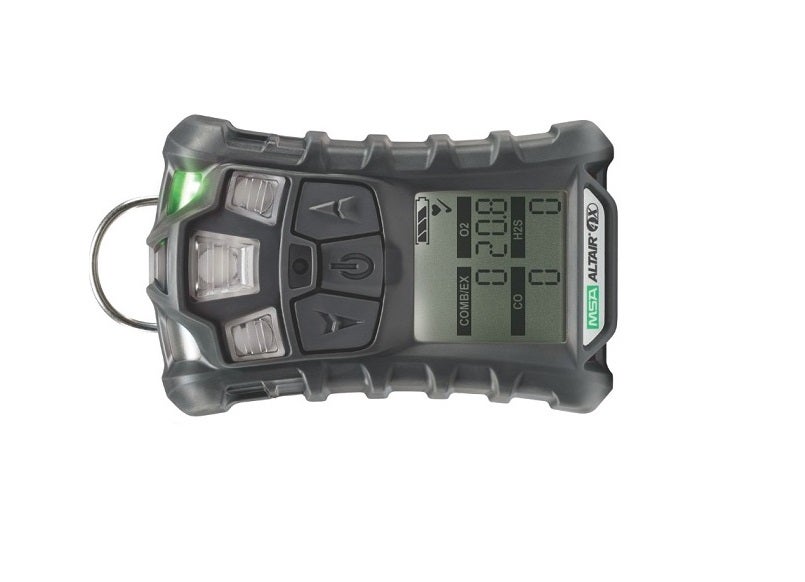 Explosive gas detection and confined space air-monitoring equipment are essential pieces of personal protection equipment (PPE) for underground mines for the immediate detection of flammable gases, toxic airborne chemicals and oxygen depletion.
Lives are at risk if without warning toxic vapours are released within a mine. In order to protect workers from a dangerous gas leak or a reduction in oxygen levels, multigas detectors such as MSA's Altair 4X and 5X monitors can be carried around as part of personnel's PPE kits.
According to Carroll Technologies president Allen Haywood: "Our handheld gas detection for mines and tunnelling are provided by MSA, the world's leading manufacturer of high-quality safety products and gas detection system solutions.
"These gas detection units are typically used for any underground operations or confined space operation such as tunnels, mine shafts, sewer canals, large tanks and containers. They monitor for gas and oxygen to ensure that the worker is safe and has breathable air."
The Altair 4X is a rugged and durable gas detector that can measure up to four gases simultaneously from a range of XCell(R) sensor options, such as combustible gases, H₂S, O₂, CO, NO₂ and SO₂. The Altair surpasses other combustible gas detectors with its four-year sensor life (up to 60% longer than the industry average), as well as its 24-hour run time, which is 71% greater than the industry average.
The MotionAlert feature alerts others if the user has become immobile, and the InstantAlert feature is a manual alarm that warns others of potential danger. For use in adverse underground mining environments, the rugged design is able to withstand a fall up to 20ft.
The Altair 5X multigas detectors are capable of measuring up to six gases at the same time and is available with an integrated photoionization detector (PID sensor) for VOC detection. MSA's XCell Sensor Technology delivers industry-leading response times, accuracy and a long service life, making it a cost-effective investment.
The MSA Altair 4X and Altair 5X are available from Carroll's online mining store, along with a range of other MSA products, including safety glasses, hard hats and self-rescuer respirator.
Carroll Technologies has been leading the industry for mining safety and PPE for more than 30 years. Carroll is a factory authorized repair and certification centre for MSA gas detection equipment and its MinerCare service encompasses technical support, an extensive spare parts inventory and rapid response to mine emergencies.
For more information about gas detection and personal protective equipment for mines and tunnels, call Carroll Technologies on 606-573-1000 or send an enquiry here.