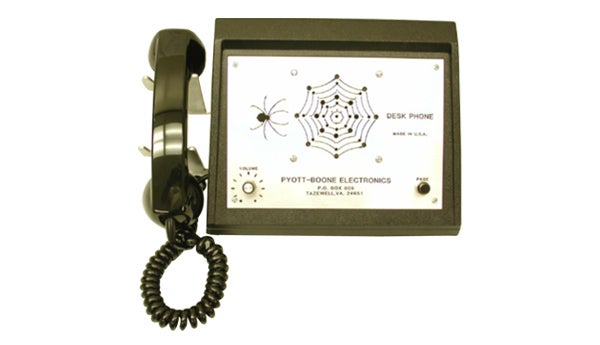 As part of the Page BossTM mine page phone series, the MSHA approved Model 118 Desk Phone from Pyotte Boone (PBE) with battery backup is designed for clear communication with underground and plant systems from an office or control room.
Page Boss phones ensure that users can obtain clear and undistorted communication. They feature rugged, NEMA 4X rated, polycar-bonate resin enclosures with a combination handle handset hanger and mounting bracket, and provide both paging and semi-private communications, as well as an inter-face unit which is available for connecting the pager phone network to leaky feeder radio systems.
The PBE desktop phone is available through Carroll Technologies' mining store, along with a comprehensive range of Page Boss products to build a rugged and reliable communication network.
Model 118 Desk Phone specifications include:
Size: 12"h X 7-3/4"w x 6-1/2"d (30.5 cmH X 19.5 cmW X 16.5 cmD)
Weight: 11 pounds (5 kilograms)
Power Source: 12 VDC battery NEDA 926 (unless otherwise specified)
Power Requirements: Standby– 0 milliamps, page amplifier– 350 mAvv
Input Line Resistance: 18K ohms
Input Line Impedance: 2K ohms
Output Impedance: 600 ohms
Output Page Voltage: 12 volts
Output Page Current: 500mA max (shorted line)
Output Amplifier Power: 2.4 watts RMS undistorted
Solid State Relay Sensitivity: 2 volts DC
Enclosure material: Polycarbonate resin
Warranty: 90 days
In addition to distributing the Model 118 110 / 220 VAC desktop Page Boss, Carroll Technologies is an authorized repair and certification centre for all PBE equipment and other mining communication devices.
According to Allen Haywood, president of Carroll Technologies: "PBE is the manufacturer of the largest majority of the phones that we service, but we service just about any kind of mine phone out there that may be repaired."
Customers who purchase Pyott-Boone products for their mining operation through Carroll Technologies benefit from MinerCare 24/7, which offers technical support, an extensive spare parts inventory and rapid emergency response.
For more information or to get a quote for your mining project, call 606-573-1000 or send an enquiry here.
This article was first published on Carroll Technologies.