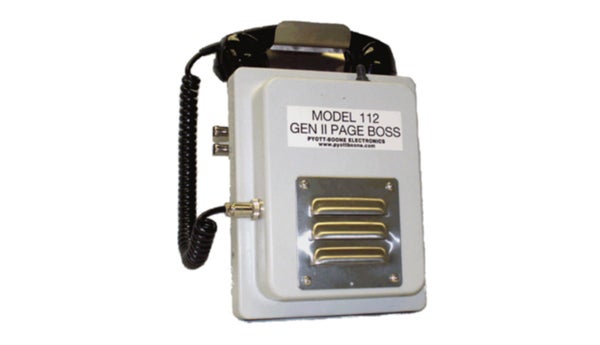 The Page BossTM mine page phone series is one of the most advanced phone series available on the market to the mining industry. Along with its clear and undistorted communication, customers have the opportunity to combine quality products from this series to build a complete and reliable communication system above or below ground.
According to Allen Haywood, president of Carroll Technologies: "PBE is the manufacturer of the largest majority of the phones that we service, but we service just about any kind of mine phone out there that may be repaired."
The Model 111 Page Boss w/ Bullhorn is available through Carroll's online mining store to add clear and undistorted megaphone communication to both underground and above ground mining projects. It features a NEMA 4X rated, polycar-bonate resin enclosure, as well as a handle handset hanger and mounting bracket. Output amplifier power is an undistorted 2.4 watts, and the unit is powered by 12 VDC battery NEDA 926. It is lightweight, easy to carry and features a standardised PAGE BOSS printed circuit board.
Other Page Boss products available in the mining store include the model 112S/S Standard GEN II Model 112 page phone, which features sounder strobe for increased audible and visual alerts in noisy working areas, as well as the model 140  Page Boss, which features a touch tone keypad that can make calls through Model 139 or operate as a standard 12 VDC paging phone.
Customers who purchase Pyott-Boone products for their mining operation through Carroll Technologies benefit from MinerCare 24/7, which offers technical support, an extensive spare parts inventory and rapid emergency response. As a factory-authorised repair centre of PBE products, customers maximise the power of their investment in their communication system with fast, reliable repair and certification.
For more information or to get a quote for your mining project, call 606-573-1000 or send an enquiry here.