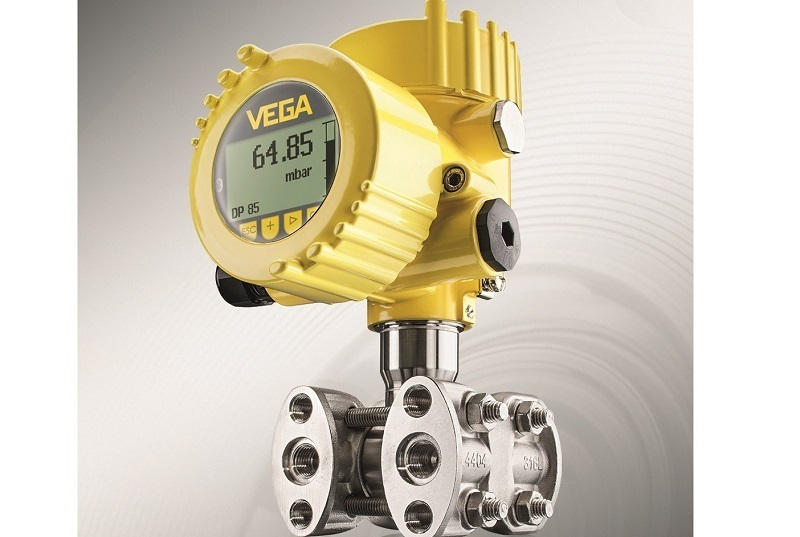 Vega provides differential pressure measurement devices for a broad spectrum of applications and mediums. Offering both mechanical and electronic differential pressure measurement methods, the Vegadif 85 and Vegabar 80 series are rugged and reliable process instrumentation used across the mining network.
The Vegadif 85 is a universal mechanical differential pressure transmitter that uses a metallic measuring cell as the sensor element. It can be used for liquids, gases and vapours for applications such as level measurement in pressurised vessels, flow measurement in combination with effective pressure transmitters and pressure monitoring on filters, as well as density and interface measurements.
Process pressures are transmitted through separating diaphragms and filling oils to a piezoresistive sensor element where the difference between the two acting pressures affects the bridge voltage. This voltage change is measured, further processed and converted into a corresponding output signal. Additional output signals such as cell temperature and static pressure can also be measured.
Electronic differential pressure measurement combines two sensors that are connected via a screened four-wire cable. The connection of Vegabar series 80 sensors as electronic differential pressure opens new possibilities for the measurement of differential pressures and avoids hazards such as filling oils heating up.
A measured value from the secondary sensor is read in and factored into the calculations, while the power supply and parameter adjustment are carried out through the main sensor. Depending on the application, the Vegabar series is available with ceramic, metallic and chemical seal sensors. The capacitance change measured by the cell is converted into an electrical signal and outputted as measured value via the output signal.
The Vegabar series also includes a new range of compact pressure switches with 360° switch status display for simple applications. During the development of the compact device series, the focus was on simple assembly and operation. Using the VegaTools app for smartphone or tablet, operators can access all the information they need about the device.
For more information about the Vegabar and Vegadif range of differential pressure measurement devices, or to find out which process instrumentation equipment is best suited for your application, visit Vega's website.