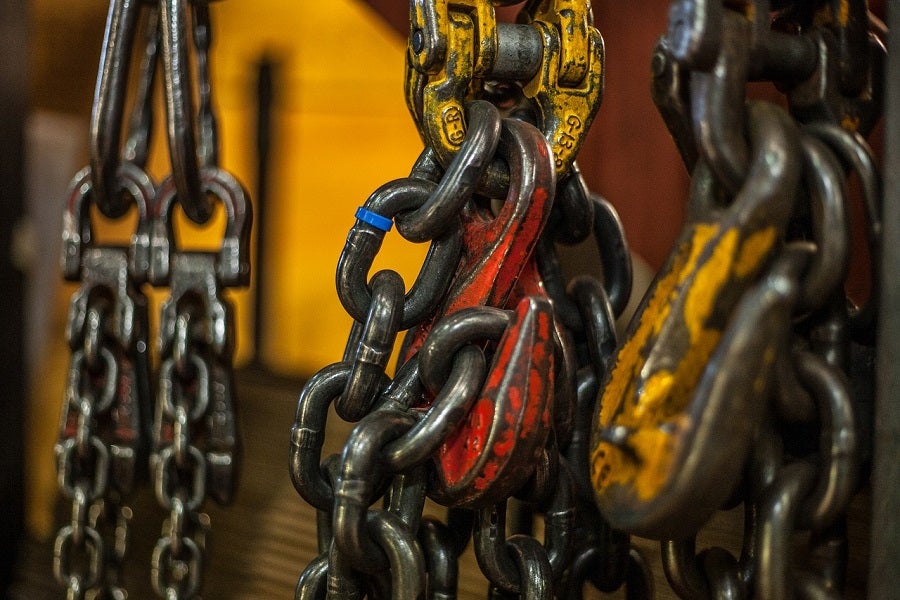 Many everyday objects in a mine cannot be lifted without the help of heavy machinery. A simple device like a mining chain hoist can be used to pick up and carry items which personnel will not be able to transport on their own due to their weight.
Made from durable metal to ensure reliability when lifting heavy loads, mining chain hoists are made from three constituent parts: the chains, the hook, and the lifting mechanism.
The hoist has two chain loops, the hand chain and the lifting chain. In order to lift something, the hand chain must be pulled by an operator. The wheel within the lifting mechanism is activated by this motion by ridged which the hand chain catches around, which loops the lifting chain into the mechanism and lifts or lowers a load accordingly.
Objects are securely attached to the mining chain hoist via the hook and can then be carried through a mine to wherever they need to be. The majority of chain hoists have swivel hooks, which can be rotated all the way around for easier mounting.
Operators can purchase a mining chain hoist through Carroll Technologies Group
Grainger's Harrington LX005 Lever Chain Hoist is able to lift half a ton in weight up to 5ft into the air, making it ideal for the large loads in a mining facility. It comes with a versatile pull to lift ratio of 62lb, and a manganese chain for extra strength and security.
Mine operators are able to purchase the equipment through Carroll Technologies Group, a leading supplier of mining safety equipment across North America.
The LX005 is also ultra lightweight and compact enough to fit inside a toolbox, meaning it can be easily carried to any spot on a mining site where heavy lifting may need to be done – in fact, it's the only device of its size which can lift the amount of weight that it can. Easy to use, transport and install, it's particularly adept at lifting in confined spaces due to its small size.
As a manual chain, it won't need electricity or other additional resources to operate, and can lift heavy objects just fine on its own. It's also more intuitive to use and easier to repair and maintain than an electric mining chain hoist.
Customers who choose to purchase the LX005 through Carroll Technologies Group are able to access the MinerCare phone line, where an operator will be available 24/7 to answer their call and provide and technical support they may need.